About
When I think about studying here, I think about how comfortable I am. I feel connected with my professors and classmates.
– Peyton Williams, Environmental Science major, Class of 2020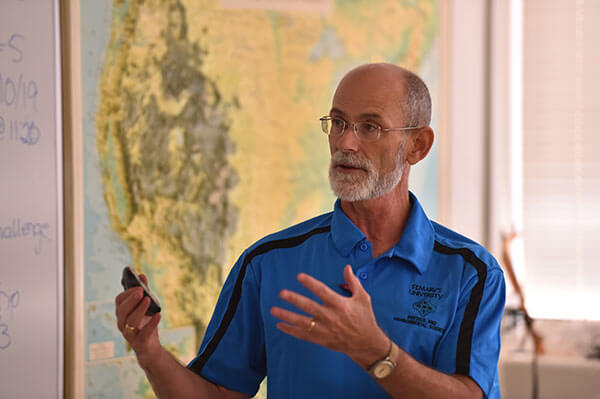 The Environmental Science Program at St. Mary's University is designed to address the urbanization issues and depletion of natural resources connected to an ever-increasing global population.
Today's environmental problems call for scientists who are educated in more than one discipline, highly trained in technical skills, and aware of the political and social dimensions of environmental problems and how to make decisions with regard to these situations.
Students receive a strong foundation of scientific knowledge and professional skills which will enable them to assess a variety of environmental issues and develop and implement solutions.
The degree plan allows students experience in a specific area of interest such as Geosciences, Chemistry, or Ecology, with both Bachelor of Science and Bachelor of Arts options.
View Photos From A Geology Field Trip
Degree Plans
Bachelor of Arts in Environmental Science — Degree Plan
Bachelor of Science in Environmental Science — Degree Plan
Minor in Environmental Science — Degree Plan
Minor in Energy Science and Technology — Degree Plan
Minor in Energy Science and Policy — Degree Plan
Minor in Geology — Degree Plan
Careers
Environmental science is a multidisciplinary field that integrates sciences such as geology, biology, ecology, physics, chemistry and geography in an Earth-based context.
Environmental scientists explore Earth's systems of energy and matter to characterize our planet and understand how it responds to different and perhaps changing conditions.
In this way, Environmental Scientists are constantly identifying and looking for solutions to environmental problems that directly affect our quality of life.
By studying the Earth and its resources, we have come to recognize that certain substances and conditions must be monitored on a regular basis to ensure a clean and safe environment. Using this information, Environmental Scientists help to develop environmental policy to govern the use of technology and more effectively steward the resources of nature.
Environmental science is a growing field, and one with many career possibilities. The need for the program is validated by the U.S. Bureau of Labor Statistics, which predicts an increased demand of almost 30 percent for environmental scientists and specialists by 2018.
Student Research and Engagement
Student Research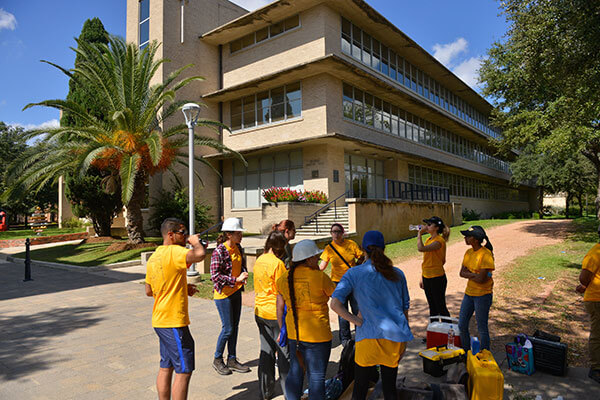 We believe that learning extends beyond the classroom, and most of our courses have at least one field trip to let students apply their knowledge in the environment around them.
Our faculty work closely with each of our students with the goal of having them ready to graduate in four years. Additionally, the Environmental Science program has several merit-based scholarships available for students.
Our students are quickly establishing a name for themselves at St. Mary's. Among our students' recent accomplishments:
A selection for the Joint Admission Medical Program (JAMP), which prepares students for applying to medical school
A selection as a McNair Scholar, which help undergraduates get ready for graduate school
Numerous students have been chosen to participate  in the St. Mary's Summer Undergraduate Research Fellowship Program, which funds students participating in faculty-mentored research projects.
Undergraduate Research Opportunities
Our students are actively engaged in undergraduate research, working with our faculty in the field and in the laboratory to explore topics such as wildlife activity in the Texas Hill Country, the habitat of 25 million-year old fossil fish, the potential effects of fireworks on an urban lake, and the atmosphere in caves around San Antonio.
Our program allows students to plan a semester abroad or at our sister university in Oahu so that our students can learn about the environment in different parts of the world.
St. Mary's environmental science students have been selected for National Science Foundation Research Experiences for Undergraduates (REU) programs at other universities in Texas, Ohio, New York, South Dakota, and Washington State where they are able to be a part of cutting edge research and see a new part of the country for perhaps the first time.
Beyond just gathering data, our students also gain valuable experience presenting the results of their research at regional and national science conferences, and at the St. Mary's Undergraduate Research Symposium.
With the generous support of the St. Mary's University administration, our laboratories were recently renovated to provide up-to-date laboratory and computer facilities. The program recently received a $200,000 grant to fund the new equipment for faculty and student research.
Student Engagement
Environmental Science students are engaged in a full range of extracurricular activities, including service in the community, fraternities and sororities, the new Environment, Conservation, and Outreach (ECO) Club, and St. Mary's athletics like soccer, golf, and tennis.
The ECO Club provides students with opportunities to participate in a variety of outdoor activities, including camping, hiking, trail maintenance activities at local parks, and clean-up events on campus and the surrounding community. Check us out on Facebook.
As part of our Environmental Science Extravaganza, St. Mary's Environmental Science students also work with local public and private schools to bring the excitement of environmental science to students from preschool to high school.
Our students are also actively engaged in their community.
Learn more about the St. Mary's Environmental Science Program
Loading…