Danielle Hass has always known she enjoys helping people achieve their potential.
As a volleyball coach of a club team as a teenager, Hass, who will graduate from St. Mary's University with an MBA on Saturday, said she had no problem letting the players take the glory of a win. For her, success was about helping others reach their goals.
"I never liked that idea that the coach doesn't do anything," Hass said. "That's not true. It's about seeing the people you help achieve success."
In the future, she wants to pursue a role as a professor in which she can help others grow, much like in her coaching days.
"I truly love ethical business as well as the impact it can have on everyone's lives."

Danielle Hass
Her volleyball career as both a coach and player also helped her understand teamwork — assisting her in the academic world as well.
Hass, alongside her sister Ashley Hass (M.B.A. '17); Siti Aqilah Jahari, Assistant Professor at Monash University in Australia; and Mathew Joseph, Ph.D., Emil C.E. Jurica Distinguished Professor of Marketing at St. Mary's, were recognized in November at the 59th Society for Marketing Advances Conference.
Their research, An Exploratory Study of Consumers' Perceptions of Adopting Contact Tracing Mobile Applications, was awarded best paper in the conference's marketing track for public policy, nonprofits and health care.
Danielle Hass also authored and presented another paper at the same conference in Orlando, and is working with Joseph on two additional journal articles.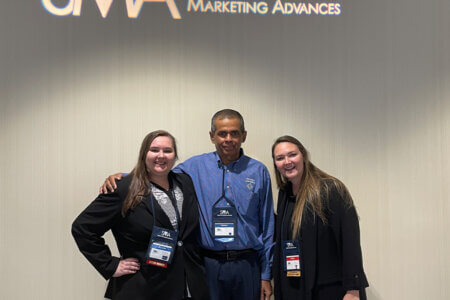 Originally from Orlando, Florida, Danielle Hass earned a bachelor's degree in Business and Information Management at Seminole State College before following her sister Ashley Hass to St. Mary's University.
Danielle Hass' passion for marketing started as a teenager when she was interested in graphic design and continued through high school. Learning she could get a job in creating content. Helping people understand products was what she knew she eventually wanted to do.
Her work with .decimal — a precision manufacturer for cancer treatment — is an example of how she said business can affect people's lives.
"I truly love ethical business as well as the impact that it can have on everyone's lives," Danielle Hass said.
When looking for a university to pursue her master's degree, Danielle Hass said the use of soft skills — skills relating to the ability to how you interact with people — during her admissions process made the allure of St. Mary's all that more exciting.
It's a lesson she said she's taking forward as she applies to schools to pursue her doctorate degree.
"The schools that I want to apply for have those soft skills," she said. "When they're meeting with me on Zoom, they're just so human. I appreciate that."
Now finishing her doctorate degree in Marketing at Texas Tech University, Ashley Hass first came to St. Mary's as a graduate assistant for the Volleyball team before focusing solely on her studies. Joseph helped her attend the Society for Marketing Advances Conference in 2017 and helped her decide to pursue her doctorate.
She is scheduled to teach at the University of Portland in Oregon starting in February 2022.
"St. Mary's had such a big impact on me because the culture of the program was so amazing," Ashley Hass said.
Joseph described both sisters as exceptional students who harbor an understanding of servant leadership.
"I am glad that I played a small part in their academic career," he said. "I truly believe my role as a professor is to inspire others to dream big and believe that nothing is impossible in life."