by Alex Z. Salinas (B.A. '11, M.A. '19)
By the time the coronavirus pandemic began impacting the St. Mary's University community, faculty and students in the Department of History had already begun documenting the swift and historical changes reshaping the Rattler landscape.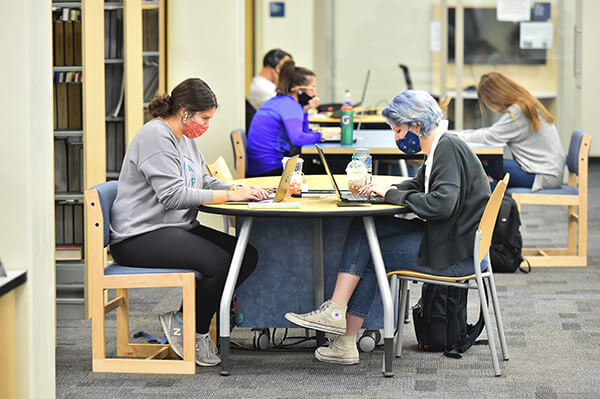 Led by Public History Graduate Program Director Lindsey Passenger Wieck, Ph.D., the project called #coveryourfangs — which incorporated the work of 10 graduate and 11 undergraduate students — collected 200 pieces of documentation, ranging from photographs of life around campus to individual testimonials.
The digital artifacts were compiled in a virtual exhibit via Arizona State University's A Journal of the Plague Year, a collaborative effort with more than 13,000 items showcasing the worldwide impact of COVID-19.
Wieck said the idea for #coveryourfangs came in Summer 2020, when her colleague mentioned to her ASU's COVID-19 archive and how easy they were to work with.
"My students all completed oral histories," she said. "They shared everything from photos of what campus looked like to photos of how their lives changed, living remotely. Some showed how some nontraditional students' lives looked like. Students with children, students living alone. They did a good job expanding outward."
Cristal Mendez, a graduate student in the Public History program, had only been at St. Mary's for one semester when Wieck asked her to contribute to the project.
Mendez, who said she was initially "a little overwhelmed," recalled one piece by a classmate in which he wrote about the passing of his father.
"It was a heartbreaking and personal story," Mendez said. "When people read this story years from now, they will understand the confusion, frustration, hopelessness and grief many people experienced. Personal accounts help to enrich the history and allow us to appreciate what people had to endure."
Blackmon said the most memorable piece she collected was an interview with a full-time undergraduate student who is a mother.
"Not only was her story significant because it is not in the mainstream college narrative, but she valued the way this interview was positive and, in a way, therapeutic," Blackmon said.
Blackmon added that "many students, especially those enduring a lot, have been so overwhelmed with the fear of the pandemic, economic losses, health and, of course, managing school, that not everyone takes time to talk about what they are going through."
According to Wieck, a quality historian requires empathy, "trying to understand others' perspectives of the world as they experienced it."
"When you start doing history out in the public," Wieck said, "you become visible in the polarized, digital world. You open yourself up to critique and personal risks. However, I've found our students are motivated by a deep need to share an inclusive history.
"They're committed to making sure these stories are out in the world," she said. "Many of them, I think, are braver than I was at their age."
For Mendez, the experience of working on #coveryourfangs was "cathartic."
"Through these exhibits I learned how resilient people are, as well as how hard St. Mary's has worked to keep us all safe and engaged," she said.