October 12, 2020
Randy Harig to discuss bioscience and health care sectors on Oct. 22
Randy Harig, CEO of Texas Research and Technology Foundation and its nonprofit innovation arm, VelocityTX, will continue the 2020-2021 Forum on Entrepreneurship Series on Thursday, Oct. 22, by focusing on opportunities in the bioscience and health care sectors.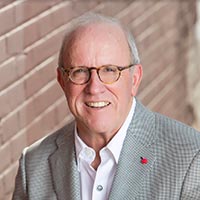 The Meadows Center for Entrepreneurial Studies at St. Mary's University will host the discussion titled, "Building on Our Life Science's Entrepreneurial Ecosystem." The event will be held virtually via Zoom from 8 to 9 a.m.
"Randy Harig brings his vast experience and knowledge about the life science's entrepreneurship ecosystem to the Forum on Entrepreneurship Series," said Stephanie Ward, Ph.D., Interim Dean of the Greehey School of Business and Professor of Management. "Our students and business partners will have the opportunity to learn from him about the keys to entrepreneurship and innovation in a fast-changing industry. His dedication to bringing strong economic development to East Side San Antonio through the Texas Research and Technology Foundation and VelocityTX shows his commitment to our San Antonio community's future."
Harig has 40 years of experience in the medical industry, including direct sales to customers as well as all levels of management within health care. He was appointed chairman of Texas Research and Technology Foundation (TRTF) in December 2016. Since then he has redirected the focus of the foundation by forming VelocityTX and developing an innovation hub in downtown San Antonio. In 2017, Harig changed position to president and CEO of TRTF to oversee the growth of this hub.
"VelocityTX is one of the coolest and most important innovation hubs in Texas and one of the key drivers of innovation in San Antonio," said Sergio Palacios, Ph.D., Associate Professor of Management and Chairman of the Board of the Forum on Entrepreneurship Series.
Harig has held executive-level positions in various businesses relating to the health care delivery system: president of a medical equipment leasing firm, president and CEO of an investment firm directed at medical properties, managing general partner of the Nix Medical Center, president and CEO of a regional manufacturer's representative company and chairman of the board of a contract research organization. He served in the U.S. Air Force and Army Reserve for a total of 10 years. In December 2013, Harig retired as president and CEO of RH Medical Inc., a marketing and distribution firm serving the U.S. and Mexico.
"We're thrilled to have Randy as our second executive speaker this year," Palacios said. "Randy has been a champion of entrepreneurship in our region for many years and he is a big supporter of our series. He always attends our sessions and connects with our students."
More about the Forum on Entrepreneurship Series 
The Meadows Center for Entrepreneurial Studies promotes and encourages entrepreneurial thought, business and activities locally, regionally and nationally. The purpose of the Forum on Entrepreneurship Series is to offer the larger San Antonio community and students of St. Mary's University a forum to hear from some of the most talented individuals in industry and government. Funds generated from the series support student scholarships and encourage entrepreneurial activities in San Antonio and the region.  
The series will continue with discussions in November 2020, February 2021 and April 2021. The event on Thursday, Nov. 12, will feature Brad Barron, president and CEO of NuStar Energy, L.P.
The series' 2020-2021 title sponsor is PwC. For information on sponsorship opportunities and individual tickets, please contact Pamela Luna at forumbreakfast@stmarytx.edu or 210-436-3124.