by Alex Z. Salinas (B.A. '11, M.A. '19)
In Greece in the eighth century B.C., Homer began composing an epic poem, The Odyssey, which would become one of the most influential pieces of literature in history. More than two millennia later, the classic has been translated into American Sign Language (ASL) for the first time — by a St. Mary's University alumna.
In Spring 2019, Cowan, who was born deaf, passingly mentioned her interest in creating an ASL interpretation of a classical piece of literature to Mary Lynne Gasaway Hill, Ph.D., Graduate Program Director and Professor of English Literature and Language. Because Gasaway Hill "essentially volun-told me to get to work on it," Cowan thanks her for the impetus.
Cowan acquired a recent translation of The Odyssey by Emily Wilson, Ph.D. — the first female scholar to translate Homer's epic into English — a "deciding factor" for Cowan.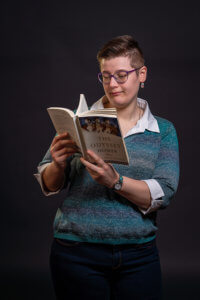 She emailed Wilson, Professor of Classical Studies at the University of Pennsylvania, to ask permission to use her translation.
"I was so nervous to email Dr. Wilson," Cowan said. "I felt like poor little Oliver Twist approaching the master: 'Please sir, I want some more.'
"But she and the publisher were kind in granting me permission, and I became awestruck at how she managed to use contemporary English and retain the meter alliteration, personification and other literary devices throughout to stay as true as possible to the spirit of the story."
Wilson's 2017 translation transformed ancient Greek into modern parlance, which critics widely praised. An article by The New York Times Magazine stated that Wilson's new interpretation of the word polytropos as "complicated" to describe Odysseus' character, for example, displayed her "brilliance" due to her "seeming straightforwardness."
On constructing a new translation, Wilson told Gold & Blue magazine that one of her "main goals was to use very regular meter — iambic pentameter — to encourage read-aloud-ability and tap into the poem's oral heritage."
With assistance from Kate Aultman, Ph.D., Director of Special Projects, Academic Research and Compliance, Cowan received a $1,500 grant from Humanities Texas, which is the state affiliate of the National Endowment for the Humanities.
Then, with support from Williamson Lehman (B.A. '19) and English senior Josh Collins, Cowan set on a quest to complete her ASL translation — even in the midst of the pandemic.
"With 500 miles between us, it took a lot of adaptation and coordination to edit everything into the finished project on YouTube," said Cowan of the two-day filming with Collins after campus implemented coronavirus precautions in the spring.

They sent the script and timestamps for each recorded segment to Lehman so he could record voice-overs.

In 10 videos ranging from 26 minutes to 54 minutes, Cowan — clad in black — performed Homer's translated words with the dramatic flair of a Shakespearean stage actor while Lehman's gruff voice narrated the action.

The YouTube channel, The Odyssey Filming Project, houses Cowan's videos.

Upon watching Cowan's work, Wilson was impressed.

"Meter can't happen in quite the same way in ASL, but I know Leigh Ann was very conscious of pacing and timing in her ASL version," she said.
"It feels entirely appropriate that The Odyssey, a poem based on a centuries-long folk poetry oral tradition, designed to be experienced by audiences who had no knowledge of writing, let alone print, should be made accessible to as wide a range of people as possible," Wilson said.
Hill called Cowan's project "a manifestation of the St. Mary's University snowball effect," and a professional milestone.

"Prior to Leigh Ann, I had never taught a student who was deaf/hard of hearing (D/HH)," she said. "It's been a profound learning experience not only for myself, but for everyone in her classes and across our campus.
"The significance is that it demonstrates how a responsive program and community like ours are flexible enough to help students, like Leigh Ann, identify their passions and how to pursue them," Hill said.
While Cowan's project sparked from her passion for literature, she hopes her videos gain traction and inspire more ASL translations of seminal works. Next, she plans to reach out to deaf schools and interpreter programs nationwide, and she has begun a master's in Deaf Studies at Gallaudet University in Washington, D.C.

"I want people to understand that the vast majority of D/HH students in special education do not belong there," she said. "There is no correlation between hearing loss and learning/cognitive disabilities. It is a matter of language deprivation."

"I want to generate interest in future literature interpretation projects and raise awareness for the need for qualified, professional outputs for a wide audience, not just the deaf and hard of hearing."
Check out the video below to watch Part I of Cowan's ASL interpretation of The Odyssey.