by Jennifer R. Lloyd (M.B.A. '16)
Recent St. Mary's University alumna Maria Guadalupe "Lupita" Partida had a rare opportunity to step into the mind of an Aztec messenger through her remote internship this summer with the Library of Congress in Washington, D.C.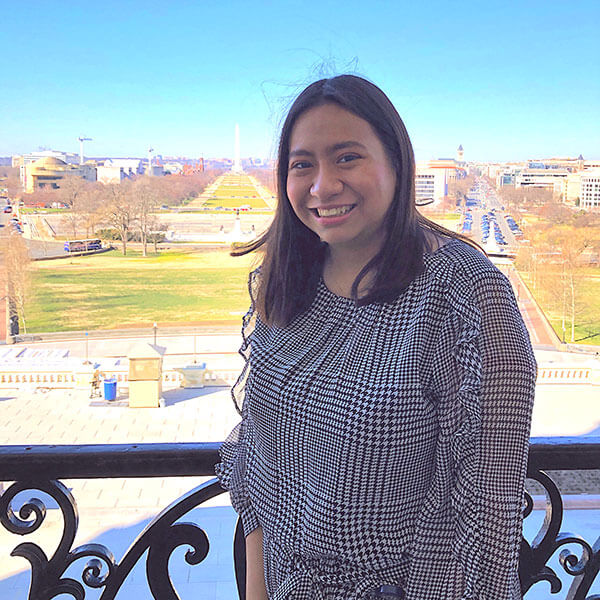 Partida, originally from Laredo, followed her father and brother to St. Mary's, where she said she found, "a close-knit community."
"I'm used to having a small classroom setting and that's the type of environment I thrived in," said Partida, who graduated in May with a bachelor's in Political Science and a History minor.
She launched the lessons from that personal mentorship into global opportunities.
Her highly competitive Junior Fellows internship at the Library of Congress culminated with the creation and sharing of a digital story map titled, Stolen: An Indigenous Story of Conquest, which utilizes visual learning tools to expand access to the Library's Hispanic collections, including the prized Huexotzinco Codex.
As a mapping and visualizing Junior Fellow at the Library's Hispanic Division, Partida was one of 40 in the program that enables undergraduate and graduate students to intern under the supervision of library curators and specialists from various divisions and receive educational and development training.
Partida's representation through historical images and text offers the account of Titlantli, an omnipresent female narrator and one-time inhabitant of the great Aztec capital of Tenochtitlán, who shares clues to her civilization before, during and after its conquest.
St. Mary's Assistant Professor of History Lindsey Passenger Wieck, Ph.D., said internships in museums and cultural heritage institutions provide valuable, hands-on experiences. The Library of Congress, for instance, is the largest library in the world and the nation's oldest federal cultural institution.
"In internships like Partida's, students can apply the skills they've learned in the classroom to problem-solving and project development in real-world public history settings," Passenger Wieck said.
"Internships like these bring together many pieces of the St. Mary's mission by enabling students to bring together their skills and knowledge in the liberal arts to further their professional education and serve the community," Passenger Wieck said.
Partida's Library of Congress internship followed on the heels of another distinctive opportunity she had as one of a small group of students selected for the Congressional Hispanic Caucus Institute. For that experience, Partida was assigned to intern at the office of Congressman Henry Cuellar of Texas.
"I met students from all over the United States and I'm so appreciative of the internship," said Partida, who began her Caucus Institute internship at the nation's capital in January but had to continue it virtually from San Antonio in March, departing a month early, because of the coronavirus. "I truly feel that I evolved while I was in D.C. I'm grateful that internship also got moved virtually."
Partida, who also studied abroad in Spain and interned with the City of San Antonio and the Refugee and Immigrant Center for Education and Legal Services (RAICES), credits her development to the experiences she gained through St. Mary's and the professors she got to know in the classroom and professionally.
"I always wanted to change the world and represent my community. I've always been driven to find activities and adventures to develop myself into a person of character," said Partida, who was a 2020 Presidential Award recipient. "My professors have always motivated and empowered me. I attribute all that I've done not only to my family and my parents, but also to my professors and the St. Mary's community."