October 5, 2020
Virtual Oct. 12-16 event features Novant Health's Angela Yochem and CPS Energy's Paula Gold-Williams  
To celebrate the 45th annual Business Week, the St. Mary's University Greehey School of Business will draw together leaders in health care, energy and other industries to further the ongoing national conversation centered on diversity, equity and inclusion.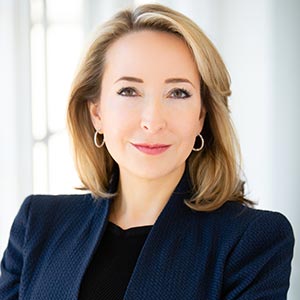 The virtual event begins Monday, Oct. 12, and continues through Friday, Oct. 16, with keynote lectures, panel discussions, workshops and a career fair embracing the theme Ethical Leadership and Innovation During Times of Change. 
"This year's focus on Ethical Leadership and Innovation During Times of Change speaks to important issues occurring in today's world," said Stephanie Ward, Ph.D., Interim Dean of the Greehey School of Business. "Business Week will include sessions on leadership and innovation in health care; the national diversity, equity and inclusion conversation; living out the Marianist charism; and business creation to promote economic and societal change. Hearing from experts on these topics is critical for student success." 
Business Week events of note include:
Tuesday, Oct. 13, 9:45 to 11 a.m.: La Quinta Keynote Speaker Angela Yochem, executive vice president and chief digital and technology officer of Novant Health; with special guest Carmen Canales, chief human resources officer of Novant Health;
Tuesday, Oct. 13, 2 to 3:15 p.m.: CPS Energy Diversity, Equity and Inclusion Panel with Paula Gold-Williams (B.B.A. '84), president and CEO of CPS Energy; Shelton Goode, D.P.A., CEO of Icarus Consulting and chief diversity officer of the Metropolitan Atlanta Rapid Transit Authority; and Norma Ramirez Montague, Ph.D.; Associate Dean of the Master's in Management Program and Associate Professor of Accounting at Wake Forest University; moderated by Thomas M. Mengler, J.D., President of St. Mary's University
Wednesday, Oct. 14, 9:15 to 10:30 a.m.: Being Marianist During Times of Change with Brother Bernard J. Ploeger, S.M., Ph.D., assistant provincial of U.S. Marianists; the Rev. Tim Eden, S.M., Ed.D., Vice President for Mission and Rector of St. Mary's University; Sister Nicole Trahan, F.M.I., provisional assistant for education for the Daughters of Mary Immaculate; Henry Van de Putte, CEO of American Red Cross Texas Gulf Coast Region
Wednesday. Oct. 14, 2 to 3 p.m.: The Economy and Society: How Does It Keep Moving Forward? with Julissa Carielo (B.B.A. '95), founder and president of Tejas Premier Building Contractor Inc. and founder of Maestro Entrepreneur Center; and Rene Garcia, president of DreamOn Development Company LLC.
Business Week begins with several professional development workshops led by St. Mary's alumni and professional staff to equip students for the world of virtual recruiting, résumé and cover letter preparation, networking and behavioral interview techniques.
Panels, interactive workshops, classroom interactions and sessions include:
The future of careers: virtual job searching techniques
Networking through your career
How to prepare for interviews
The three-paragraph cover letter
Résumé tips – dos and don'ts
Risky business: How to plan for your career goals during uncertain times
Destined to fail, destined to succeed
Future leaders series
Virtual career fair
Business Week awards ceremony
"This year's virtual experience provides the opportunity to expand the number of student, industry and alumni interactions," Ward said. "We are excited to host notable leaders in ethics and innovation from whom our students will gain important knowledge about today's economic and societal issues. It is important that our students are grounded in the intersection of faith, values and service so that they are prepared to be leaders in the world. Business Week is our commitment to preparing students in this way."
Those who would like to attend can visit the Business Week webpage to view the full schedule of events and register.