November 12, 2018
St. Mary's announces new campaign fundraising total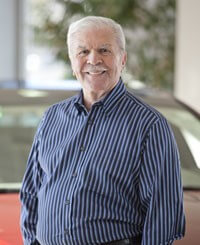 A $1 million gift from Charles Barrett Jr. (B.B.A. '62) and Melissa Barrett will support the Peer Ministry program at St. Mary's University in San Antonio.
The program, now called the Charles and Melissa Barrett Peer Ministry Program, strengthens and enriches the faith lives of students living on campus.
This gift marks another definitive step toward reaching the $130 million fundraising goal of The Defining Moment Comprehensive Campaign, which the University publicly launched in November 2017. As the largest campaign in the Catholic and Marianist University's history, donors have already helped St. Mary's raise $120 million to invest in future generations of students, President Thomas Mengler, J.D., announced Friday at a dinner recognizing donors.
Charles Barrett Jr., president and CEO of Barrett Holdings Inc., is a St. Mary's Trustee Emeritus and was named a Distinguished Alumnus in 2016. The CPA-turned-car dealer leads Barrett Holdings Inc., an asset holding company, which is an authorized dealer for automotive franchises, real estate holdings, and manager of proprietary equity investments. Barrett is an authorized dealer for Jaguar, Maserati and Alfa Romeo vehicles.
The Barretts have a decades-long legacy of giving to the University, including donating to The Park at St. Mary's and the Barrett Memorial Bell Tower, which was dedicated in 2007 and named in memory of Charles Barrett's mother and eldest son.
"St Mary's University is a special place for me and my family," Charles Barrett said. "The Catholic and Marianist values I learned there have sustained me throughout my life and career. Melissa and I feel blessed to help carry on that tradition."
The gift will rename the Peer Ministry program after the Barrett family and endow a fund to support it.
Through the program that began in 2015, University Ministry assigns student Peer Ministers to a residence hall to organize discussions and activities. The program now includes nine Peer Ministers who host bible study gatherings; lead programs focused on faith, multicultural prayer and meditation; and plan and promote retreats. As a result, the students who live in the residence halls grow in their faith — individually and collectively.
The newly endowed fund will provide resources for retreats and for off-campus training and scholarships for Peer Ministers.
"St. Mary's must be vigilant, determined and intentional in deepening its mission of transforming lives — by, in the words of our mission statement, fostering 'the formation of people in faith,'" Mengler said. "We are so thankful for Charles and Melissa Barrett for sharing in our mission. Their contribution gives St. Mary's the ability to develop the next generation of faith-filled graduates."
More about the Peer Ministry program
The program builds upon the Marianist value of living in community and brings faith formation into the on-campus homes of students. Last year, the program served more than 700 students.
One of its most popular events is the Room Blessing at the beginning of each semester. Peer Ministers coordinate a visit by a priest or brother to bless students' rooms. More than 350 students have their rooms blessed each semester.
"Since most of our Peer Ministry events are hosted in the residence hall lounges and courtyards, we can help to transform an otherwise-overlooked location and create a sense of community," said Ellie Vela (B.A. '18), who majored in Theology and served as a Peer Minister for three years.