October 24, 2018
Friday marks the 75th anniversary of internment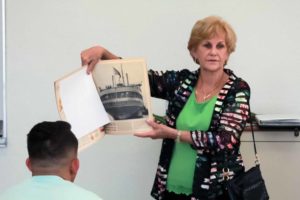 St. Mary's University is hosting a Day of Remembrance in Chicago and San Antonio on Friday, Oct. 26, to commemorate the 75th year of German-American internment during World War II.
Three former child-internees and their representatives — internees Frances Ott Allen and Jo Anna Wartemann Terwege Howell; and the children of the late Eberhard Fuhr, Anna Skoda, Rob Fuhr and John Fuhr — will share memories from the day they and their families were taken from their homes and sent to Chicago detention centers. They will also call for the placement of a historical marker at the detention site, 4800 S. Ellis Ave.
In October 1943, armed guards took then 8-year old Allen from Chicago to Texas to internment for nearly two years. Howell was interned in Texas at the age of 9 months and then expatriated in February 1944 to an active war zone in Germany where she experienced bombardment. Howell was one of 1,117 interned Americans aboard the M.S. Gripsholm bound for Nazi Germany, said Teresa Van Hoy, Ph.D., Professor of History at St. Mary's University and faculty adviser for the event.
Chicago had the second-highest detention rate of German-Americans, interning civilians from the Midwest region, Van Hoy said. The former internees, their families and their supporters are calling on Congress to pass a bill officially recognizing German-American internment as they have already recognized Japanese-American and Italian-American internment.
"American-born children throughout the United States, notably Chicago, the Midwest, and greater New York, were sent with their parents to live behind a barbed-wire fence in an internment camp in South Texas 75 years ago. Some of these children were then shipped to war-torn Germany, including to the prison at Hohenasperg. Most have since died," Van Hoy said. "The last survivors, including Frances and Jo Anna, urge the public to know this history and to remember."
Eighty-five students studying Public History at St. Mary's University in San Antonio, Texas, have organized the commemoration in Chicago, including a re-enactment of internees' forced march across the Chicago Loop, and a candlelight vigil at the internment site. They and student-leader, Nicole Johnson, have also organized Satellite Remembrance Rallies to be shared by 800 supporters from San Antonio to London and Berlin.
Events in Chicago and San Antonio, Texas:
The public is invited to three events during the Day of Remembrance in Chicago on Friday, Oct. 26:
Noon to 1 p.m.: Re-enactment of the internees' forced march across the Loop 75 years ago. The march starts from the Great Hall at Chicago Union Station, 225 S. Canal St., to the corner of Michigan Avenue and Roosevelt Road — the original site of Central Station, from which internees were shipped to a camp in Texas.
2:30 to 3:30 p.m.: Rally from Hyde Park Art Center, 5020 S. Cornell Avenue, which will include internees' offering a public preview of artifacts from their personal collection that will go on display in November at the Bullock Texas State History Museum for a year-long exhibit.
4:30 to 5 p.m.: Candlelight remembrance at the internment site, 4800 S. Ellis Ave.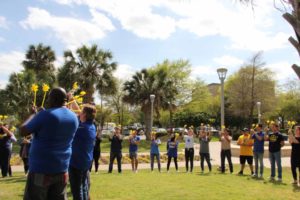 The public in San Antonio is also invited to join a Remembrance Rally hosted at St. Mary's University from 2:30 to 3:15 p.m. Friday, Oct. 26, in front of St. Louis Hall. This rally will be linked by live feed to the program in Chicago. Participants will unveil an interactive map of internment history and share facts and poetry on German-American internment.
The event will conclude by surrounding participants with a rope to suggest internment in Texas 75 years ago as participants hold yellow pinwheels — the symbol of child abuse prevention.
This Day of Remembrance is part of a three-part Year of Remembrance, which will include a third gathering in New York on Feb. 15, 2019.