Degree
Minor

https://www.stmarytx.edu/academics/programs/computer-science/

https://www.stmarytx.edu/wp-content/uploads/2020/07/computer-science-1.jpg

Bachelor of Science

https://www.stmarytx.edu/academics/programs/computer-science/

https://www.stmarytx.edu/wp-content/uploads/2020/07/computer-science-1.jpg

Teacher Certification

https://www.stmarytx.edu/academics/programs/computer-science/

https://www.stmarytx.edu/wp-content/uploads/2020/07/computer-science-1.jpg
The Bachelor of Science in Computer Science employs the latest tools and technology to provide a well-structured education in this exciting and innovative field.

Students can choose from several programs:

Students take a variety of courses, including the School of Science, Engineering and Technology Core, to provide a well-rounded education.

Conventional and Object Oriented Programming

Computer Architecture and Operating Systems

Systems Analysis and Design
Careers in computer science exist in virtually every industry, and skilled programmers are highly sought after in the current job market.

Computer scientists work in technical IT-related careers such as:

Software designer/developer

Students who take other Computer Science elective classes can gain specializations in careers related to cybersecurity, data science, and game, mobile and web development.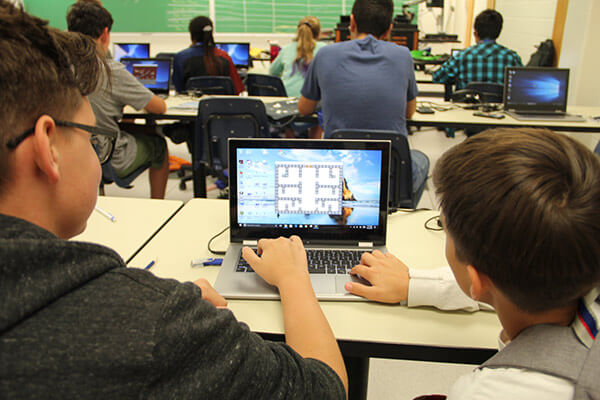 The St. Mary's Department of Engineering offers a number of annual computer science-related summer camps for students in middle school and high school.
Students majoring in any of the sciences, from computer science to biology, are invited to join the Science Living Community. Students live together and can attend programs throughout the year.