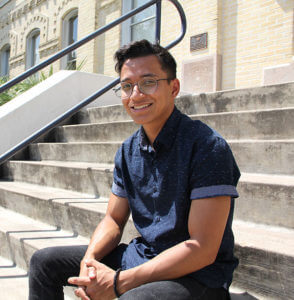 That's because Amatya grew up in Kathmandu, the capital of Nepal, nearly 8,500 miles away from St. Mary's University.
Before St. Mary's was a blip on Amatya's college radar, he knew he wanted to study in a new environment for his higher education.
"I wanted to attend a diverse school, but with fewer people from Nepal," he said.
When he came across St. Mary's, he applied to the Marianist Leadership Program, or MLP, interested in its strong sense of community service. He was initially waitlisted, but Brian Buchmeyer (B.A./B.S. '13, M.S. '18), former MLP coordinator, spoke with Amatya frequently and determined he would be a good fit.
In July 2016, Amatya arrived to St. Mary's and quickly set to serving the campus community and its surrounding neighborhood — befriending Marianists, coordinating events and working on the "Humans of StMU" social media project, an Instagram page devoted to showcasing the diversity of the student body.
Having been raised Hindu and knowing many Christians growing up, Amatya was moved by the University's Catholic identity and spiritual formation of young people.
Amatya's religious journey has allowed him to study and incorporate many faiths into his spiritual practices, from meditation to divine adoration.
"The community aspect of Marianist culture allows one to be vulnerable to other groups of people," he said. "I practice my spirituality in a variety of ways — through service, community moments, nature, making myself present in a holy space or by simply bringing that holiness to the space I am in."
When it came time for Amatya to complete an internship for his Computer Science degree, he faced difficulties as an international student. Despite this, he left a lasting impression on his professors as well as his supervisors at Itron, a technology company specializing in energy and water resource management.
"After his internship was over, his supervisor emailed me to say that he had done good work, and he did," said Carol Luckhardt Redfield, Ph.D., Chair and Professor of Computer Science. "It's difficult work, and it takes a lot of discipline and thought."
Amatya hasn't been back to Nepal since 2016, though he plans to return one day to see his family and friends. In the meantime, he's still preparing for his future.
"It was an overwhelming path that I chose. No friends, no family, just a kid with two suitcases going halfway around the world," he said.
"Through service, I hope to make a difference in others and myself."