About the Texas Regional Ethics Bowl
Every year since 1997, St. Mary's University has hosted the competitive intercollegiate Texas Regional Ethics Bowl (TREB) in which teams from various colleges and universities square off against each other before a panel of judges and debate the issues of ethics cases. These cases come from various fields such as medicine, law, engineering, the environment, research, animal rights, socio-economic policy, warfare, business, private life, and more. Students receive cases about six weeks in advance and spend the time leading up to the event analyzing them in terms of the relevant principals and values. The top three or four teams from the TREB go on to compete in the national Intercollegiate Ethics Bowl, taking place this spring in Atlanta, Georgia.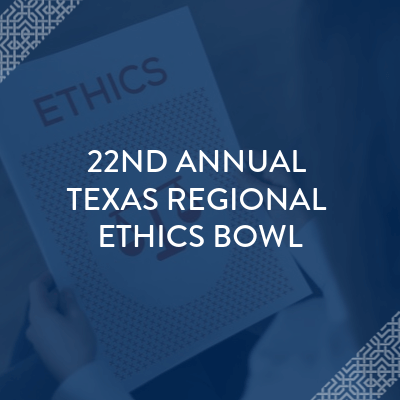 Register to Participate at St. Mary's Texas Regional Ethics Bowl
To participate in the St. Mary's Texas Regional Ethics Bowl, teams must register with St. Mary's University and APPE. Teams who do not register through St. Mary's will be unable to participate. If a participant fails to register with APPE but registers with St. Mary's, they will be permitted to participate at the St. Mary's event, but will not be eligible to participate at the national event if they win at St. Mary's.
The Ethics Bowl Edge and How it Works
Although similar to a debate, an Ethics Bowl has one major plus over traditional debate: Ethics Bowl teams decide for themselves how to evaluate the case. There are no "affirmative" and "negative" sides determined by a flip of a coin. Students have already worked through the issues on their own, not knowing for certain what questions they will answer. They come prepared by being fully aware of what is at stake in each case. For each round, one team will present and the other will respond. Only at the beginning of the round does the presenting team learn which case they will discuss and hear the question they must answer. Each team has two minutes to prepare an answer, and up to 10 minutes to deliver their best arguments for it. The responding team then tries to poke holes in the arguments offered by the presenters. The presenting team gets to reply which is followed by questions from judges. When the judges have secretly marked their score cards, the round continues with teams' roles reversed and a new case. At the end of each such match-up between two teams, the winner of that round is announced. These rounds all take place concurrently in different rooms, so teams from one room will not know the results from other match-ups. When one round is over, teams move to new rooms to compete against different teams.
At the St. Mary's Texas Regional Ethics Bowl, there are three such rounds in which everyone participates. At the national Ethics Bowl, there are six rounds, the final three being eliminations. Traditionally, there are between 18 to 24 teams at the regional event, and 42 at the national event.
Teams consist of three to five members, so students will often divvy up the cases and let each team member take responsibility for one cluster of topics. The SAE will sometimes stage a "moot" Ethics Bowl in which faculty members participate as judges, and students can walk through the process. Students who have been in an Ethics Bowl agree that the experience gained has been both eye-opening and fun.
Teams of undergraduate students representing any U.S. university can participate.
St. Mary's Team: Society For Applied Ethics
While hosting the event for the region, St. Mary's also fields a team, drawn from the student organization, the Society for Applied Ethics (SAE). Participation in the SAE gives students experience in event organization, public speaking, ethics analysis and debate. While one course in the St. Mary's Core curriculum, "Foundations of Practice: Ethics," exposes every student to basic moral concepts, many students like to take the next logical step and apply these concepts to recent, real-world cases. The SAE and TREB are two such opportunities.