The year is 2008 at St. Mary's University. You're enjoying a warm San Antonio evening walk through a tree-spotted courtyard in between student residence halls. You pass a nondescript picnic table where two young business majors, eyes locked on each other, are chatting and laughing before turning in for the night.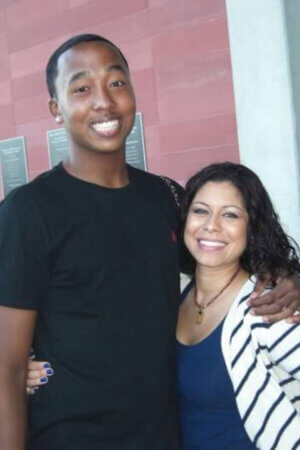 To an outsider, this moment may seem unmemorable. But to the young couple in the midst of it, this is the foundation of their love story.
These nighttime chats would prove so impactful to the young man that, seven years later, he would take the young woman back to the exact picnic table and ask her to be his wife.
"It made the most sense to propose there," said Aaron Thomas (B.B.A. '12). "This is where we actually got to know each other."
Despite both being students in the Greehey School of Business, Aaron Thomas and Nisi Heredia (B.B.A. '11), now Nisi Thomas, didn't cross paths until they met at a student gathering. Thomas was a freshman basketball player while Heredia was a sophomore heavily involved in her sorority, Sigma Sigma Sigma.
After the gathering, the two and their friend groups went to IHOP, and soon, Thomas asked Heredia out on their first date to Marble Slab Creamery.
"I was playing hard to get for sure," said Nisi Thomas. "It took a couple of dates for me to finally accept him."
Eventually, she found herself attending his basketball games.
"I never went to the basketball games before that," she said. "I went to watch him."
Over the next few years, the couple's relationship grew as they attended classes, competed against each other in intramural volleyball, went on dates to the River Walk and fueled up together at the on-campus coffee shop.
"It was nice to be at a smaller school because you knew everyone," Aaron Thomas said. "There was a sense of community."
Both remain close with many of their friends from college.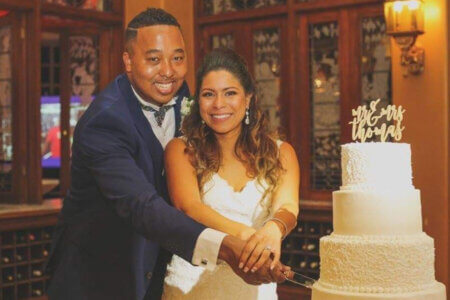 "I still talk with my sorority sisters on a regular basis," Nisi Thomas said. "Now we meet up with our own kids."
Their time at St. Mary's provided more than just a partner and lifelong friends, but a foundation for their future careers as entrepreneurs. The Thomases now live in Katy and own several income properties. In 2022, Nisi Thomas opened an all-female-run occupational therapy practice, while Aaron Thomas started his own title company.
While majoring in Marketing and taking classes like Accounting and Fundamentals of Business, they gained the knowledge they would need to run successful companies. Extracurricular opportunities like the Black Student Union and the Marketing Club expanded their education outside the classroom. 
"I liked that there were so many clubs we could be involved in that would allow us to see the entrepreneurial side of things," Nisi Thomas said.
Having their own businesses means they can prioritize doing what they love, like spending time with their three young children, Dion, Arion and Diovanna.
"Today, we went to our son's school to have lunch with him," Aaron Thomas said. "It's a freedom thing."
Their careers also mean they can be role models to their kids.
"When our kids start working, they know they can take a leadership role if they want," Aaron Thomas said.
Entrepreneurship comes with challenges, which are compounded when both spouses are business owners, but the pair has learned how to manage.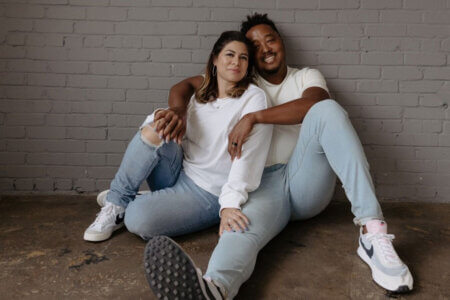 "Sometimes it's mentally exhausting, but we prioritize, and we delegate," Nisi Thomas said. "Aaron knows when I'm stressed, and he can understand why."
When work gets stressful, and life gets tough, the couple focuses on the big picture.
"You just have to remember that everything is a blessing," Aaron Thomas. "I'm appreciative for everything we have."