She was an Accounting major. He was studying Finance and Risk Management. She was in the Honors program. He was on the tennis team. She was a junior from the Rio Grande Valley. He was a first-year student from Sugar Land.
But while at St. Mary's University, Judi Maciel (B.B.A. '14, M.B.A. '21) and Michael Maciel (B.B.A. '17) had one thing in common — the Greehey Scholars Program.
"Without the program, I don't think our paths would have crossed," said Judi Maciel, whose maiden name was Molina. "I definitely wouldn't have been to a tennis match. I looked at us as completely different people."
With donations provided by Bill Greehey (B.B.A. '60), the Greehey Scholars Program awards scholarships and provides leadership, volunteer, business and travel opportunities to students in the Greehey School of Business.
It was during a Greehey Scholars Program trip to Omaha, Nebraska, that the young scholars first became acquainted. With seats on the flight assigned alphabetically, the duo found themselves side-by-side — he studying en route and she teasing him for it.
"During my last semester, I was trying to have fun and enjoy the people around me instead of being so focused on getting things done," Judi Maciel said. "I started seeing Michael as a friend."
After she graduated, Judi Maciel thought she'd never see Michael Maciel again, but their new friendship couldn't be left behind.
"We kept chatting. I would tell him about my new job and he would tell me about tennis," she said.
The two realized they had more in common than they thought, such as their shared Catholic background. When Judi Maciel began attending his tennis matches, she knew there was something special there.
"The more-than-friends thing kicked in when I realized we'd gotten a lot closer than most friends would," Michael Maciel said.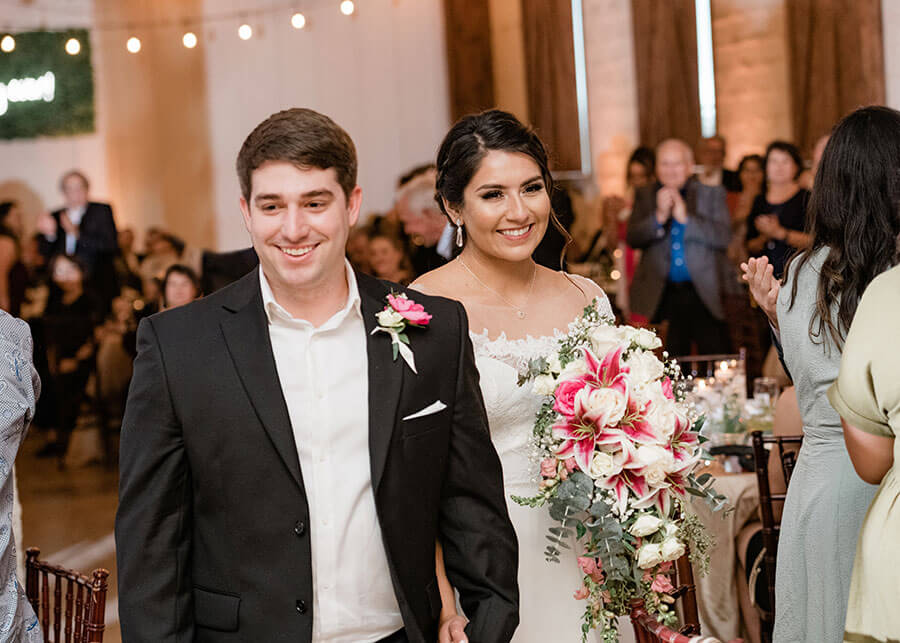 Two years after he graduated, they became engaged. On May 1, 2021, the couple married in the midst of a pandemic and torrential rain falling on attendees as they entered St. Elizabeth Ann Seton Catholic Church in San Antonio. The service was officiated by the Rev. Jim Tobin, S.M., Greehey School of Business Chaplain.
"I like to believe that the gospel from our wedding day came to life," Judi Maciel said.
The gospel Tobin read during the service was Matthew 7:24-29: "Everyone who listens to these words of mine and acts on them will be like a wise man who built his house on rock. The rain fell, the floods came, and the winds blew and buffeted the house. But it did not collapse; it had been set solidly on rock."
For the young couple, the friendship that began on a flight to Nebraska grew to become the foundation — the rock — of their marriage.
"We're so grateful to the program directors who chose us for the program," Judi Maciel said. "We knew the program would change our lives academically and professionally, but we didn't know it would bring us to our future spouse, too."