Growing up in a single-parent household in San Elizario, a border town near El Paso, Jocelyn Torres said she did not have access to a wealth of economic or educational resources.
That didn't stop Torres from graduating toward the top of her high school class and striving to become the first in her family to earn a college degree. Despite having no connections to San Antonio, a presentation at her high school led her to apply to St. Mary's University. Now, she is a junior Biology major with plans to attend medical school.
"I always felt so underfunded and helpless growing up," Torres said. "When it came to SAT prep, I never had help from anyone. So 19 other students and I helped each other and ensured we sent college applications and all that."
Transitioning to San Antonio
After spending her first year of college studying virtually from home during the COVID-19 pandemic, she moved to San Antonio during her sophomore year.
"Living by myself for the first time was hard and still is sometimes," Torres said. "However, I have a couple of friends who are my best friends here, so it's nice to lean on them."
"I can have a relationship with my professors. The professors have helped me discover many programs, internships and scholarships."

Jocelyn Torres, Biology major
Torres added her loved ones warned her she may want to move home after leaving. Being able to prove them wrong "in a nice way," she said, motivates her. Looking to a future of giving back to her community as a doctor inspires her as well.
"I have my sights on medical school," said Torres, who wants to specialize in dermatology "to help my dad and workers who are out in the sun."
A scholar in the classroom
Before she conquers her medical school dreams, Torres said the tight-knit St. Mary's Biology community and accessible professors have aided her success.
She has also taken part in the Joint Admission Medical Program (JAMP) at St. Mary's. JAMP is an undergraduate pipeline program across Texas that provides low-income students with hands-on experience in a health care environment, personal and professional development skills, MCAT prep and scholarships to attend medical school.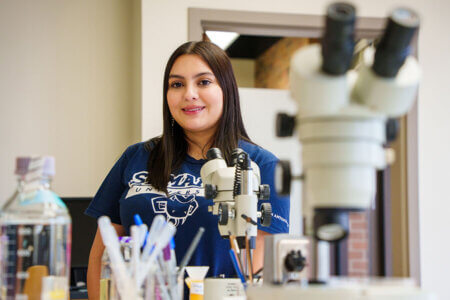 "When I was in JAMP, students from other universities would tell me they were in 100-person classrooms. I thought, 'How do you even get a recommendation letter?' That's why I love it here. I can have a relationship with my professors," Torres said. "The professors have helped me discover many programs, internships and scholarships."
"Jocelyn is an excellent student, but she is also one of those students who works for everything," Macrini said. "I wasn't surprised when she got into JAMP as her hard work speaks for itself."
Biology students can explore a variety of vocations, such as medicine, dentistry, optometry, pharmacy, veterinary medicine, nursing, physician assistantship and education.
"We have a strong track record of students getting into medical school from St. Mary's. Students who should pursue Biology are people who consider themselves high achievers and have big aspirations."

Thomas "Ted" E. Macrini, Ph.D.
JAMP students can also take Medical College Admission Test or the Dental Admission Test prep courses at a reduced rate.
While students may see Biology as a daunting major, Macrini echoed Torres' message that the program prepares students for success.
"We have a strong track record of students getting into medical school from St. Mary's," Macrini said. "We have rigorous courses that help prepare students for the future. Students who should pursue Biology are people who consider themselves high achievers and have big aspirations. That's why the major works for someone like Jocelyn, who has big dreams and is constantly working hard toward her goals."