Nancy LaGreca, Ph.D., is no stranger to diversity. Growing up in Niagara Falls, New York, she heard multiple languages at home — from her father's Sicilian to her mother's Slovakian to their common language, English.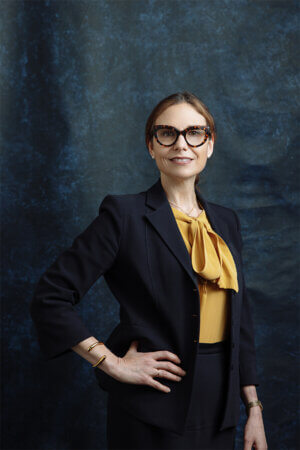 It was this melting pot, in addition to time spent working and studying in Spain and Latin America, that piqued LaGreca's interest in how people speak. After earning an undergraduate degree in Spanish with a minor in French from the State University of New York at Geneseo, LaGreca then obtained her doctorate in Spanish with a doctoral minor in Women and Gender Studies from the University of Texas at Austin.
Along the way, LaGreca noticed a lack of women and other marginalized writers in Latin American curricula. As the Dean of the College of Arts, Humanities and Social Sciences and Professor of Spanish (Latin American Literature and Culture) at St. Mary's University, she looks to share those voices to show different world views.
"I discovered my passion was within Latin American literature and culture, and rediscovering the voices of not only women writers, but also other marginalized writers of color who were economically or socially disadvantaged," LaGreca said.
LaGreca said the University's designation as a Hispanic-Serving Institution, as well as its mission of inclusivity, drew her to apply for the position, officially joining in 2022.
LaGreca also highlighted how the diverse backgrounds of the St. Mary's deans allow the group to bring different perspectives to the table.
"It's important for students to see themselves in their role models. That's one way diversity can shape the next generation of students."

Nancy LaGreca
Using an example of her time previously working in the Spanish Department at the University of Oklahoma, LaGreca said she was the only woman in the department, working with male colleagues to make improvements to the undergraduate and graduate programs. She said her male colleagues supported her and she also honed her listening skills, learning how to pitch her ideas to different audiences based on their experiences.
With different experiences, she added, come new ways of tackling challenges.
"That diversity leads to new inquiries in meetings," she said. "It's great that we're coming from different backgrounds because we're constantly expanding each other's minds."
Wanting all students to receive a well-rounded education, LaGreca said it's important for students to have educators who also look like them, giving them someone they can see as a mentor and an example of someone like them who reached significant career goals.
"It's important for students to see themselves in their role models," LaGreca said. "That's one way diversity can shape the next generation of students."