Many children dream of becoming a professional soccer player, a lawyer or an international businessperson. Those with bigger imaginations dream of becoming all three.
For international student Daniel "Dani" Gimena, these aspirations aren't just fantasies. He's actively pursuing each of these career paths — and it wouldn't surprise anyone in the St. Mary's University community if he manages to achieve those goals.
"Growing up playing soccer, I was used to studying, having dinner and sleeping in the car so I could balance all of my different commitments," Gimena said. "Some people might think I'm too ambitious. But I know there are options out there, and I want to know I made the most of things instead of taking the easiest way."
From Spain to South Texas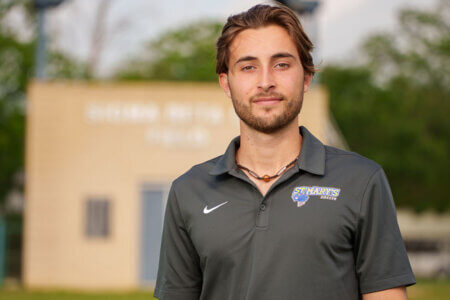 Originally from the small coastal city of Dénia, Spain, Gimena could swim before he could walk. His family frequently participated in triathlons, which include swimming, cycling and running.
But his first love was soccer. At age 10, he was already on the path to becoming a professional. After being accepted to play for an elite youth team, Gimena's dad drove him two hours roundtrip to training sessions in another city each day.
"It was like that for eight years or so," Gimena recalled. "Soccer was my priority. But my parents always told me that education was equally important. Even after being accepted to a well-known soccer academy, I knew that I wanted to find a way to both play and study."
Gimena set his sights on playing soccer at a university abroad. The midfielder signed with the Rattler Men's Soccer team in Fall 2020. Moving abroad in the middle of a global pandemic wasn't always easy, but his commitment made him an immediate standout on the team.
"Daniel is always striving to achieve. No matter what he's doing, he's doing the best he can possibly do," Men's Soccer Head Coach Johnny Clifford said. "During the pandemic, he trained in small groups of four. He kept working hard. Not only were we champions that year, but he was the joint lead goal scorer of the season. His position is not a goal scorer, he just tries that hard."
Studying International Business
"At St. Mary's, we strive for excellence as a community."

Dani Gimena
"Dani plans to pursue international business law, and I am confident that he will end up not only a top lawyer in his field, but also one not driven solely by economic gain," said Jeffrey E. Johnson, Ph.D., Emil C.E. Jurica Professor of International Business. "He is an example for other students who hard work. Determination can allow St. Mary's students to attain a well-rounded experience and leave a servant leader of values."
Eager to gain exposure to the field of law, Gimena pursued an internship at the law offices of St. Mary's alumnus Jose M. Rocha, J.D. (B.A. '06), where he gained hands-on experience attending in-person and virtual hearings, and managing relationships with clients.
Whether he pursues a law degree, an MBA or a soccer career, Gimena said he will always be grateful to St. Mary's for helping him get there.
"At St. Mary's, we strive for excellence as a community," he said. "It's a great place to grow your network and explore your interests, knowing that, if you mess up, everyone is supporting you to learn to do it again. There's always another opportunity."