by Alex Z. Salinas (B.A. '11, M.A. '19)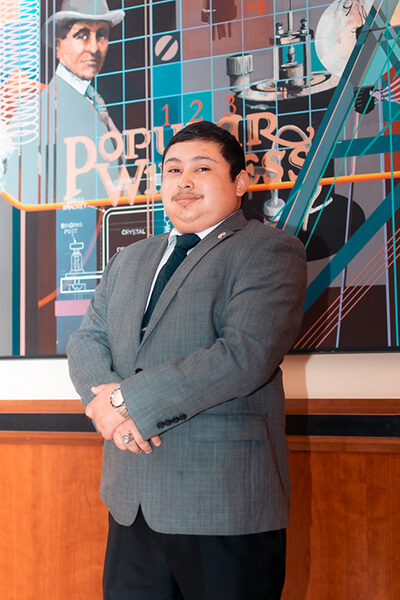 Nick Ramos, who turned 26 in May, had already launched a couple of businesses before he enrolled in the Master of Business Administration program at St. Mary's University in 2020.
Despite the business acumen he garnered young, Ramos would meet at St. Mary's "lifelong friends, my solid six people who I know will be at my wedding."
It was also while attending St. Mary's that Ramos, after a woodworking accident and subsequent eye surgery, experienced a spiritual transformation, moving him to work toward developing businesses in service to the common good.
The San Antonio native — who at Central Catholic High School sold tacos outside the cafeteria — studied Entrepreneurship at University of Texas at San Antonio, where he put his classroom knowledge to action by starting a construction company, founding a food app and becoming the entrepreneurial lead on a treadmill with a back harness designed for people with mobility issues.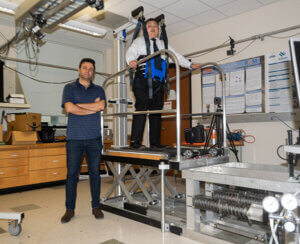 Ramos cowrote a National Science Foundation grant for REHABILIT8 — the name he coined for the treadmill — and for more than three months, he and a team of engineers traveled the country to perform customer interaction, even meet with Nike executives at their headquarters in Beaverton, Oregon.
"My parents are both working class, and I remember as a kid being surrounded by their friends who all owned businesses," Ramos said. "From early on, I learned to love the idea of having freedom to make money I earn, not just collect a paycheck."
In 2017, after Ramos received his B.B.A., he sought guidance at Geekdom, a collaborative space for local entrepreneurs, where he met Associate Professor of Management Sergio Palacios, Ph.D.
"I booked an appointment with him, got to know him, and we met frequently for coffee and lunch," Ramos said. "Dr. Palacios was one of the first people I consulted to help me navigate through business conflicts."
Palacios also encouraged the tireless businessowner to continue his education at St. Mary's.
"Our program is very strong and attracts very talented individuals," Palacios said. "I believe the combination of great students and small number of class sections allow for enhanced interaction and the natural ability to form lifelong relationships."
Ramos began taking MBA classes in Summer 2020 and will graduate in August.
In the meantime, he teaches entrepreneurial and professional communications courses at Central Catholic High School, and serves as partner for a company, CANopener Labs, which provides prototyping and development space for startups.
Ramos said CANopener Labs has assisted more than 20 startups, including raising funds for minority-, veteran- and women-owned ventures.
"St. Mary's mission resonates well with social entrepreneurship, or the idea of providing value to others and generating profits, and using some of those to tackle a social problem," Palacios said.
"One piece of advice I give to my students whom, like Nick, are interested in making an impact on society, is to first focus on creating value and developing a strong business model, and then find ways to enhance its impact."
Ramos credits his Marianist education — especially during the pandemic and following his surgery that prevented total vision loss — for his success and transformation.
"While I was temporarily blind, I felt I saw the clearest about wanting to see change in the community," Ramos said. "I want to see San Antonio thrive. Like at St. Mary's, we need to continue building leaders. Collaboration leads to innovation."