by Alex Z. Salinas (B.A. '11, M.A. '19)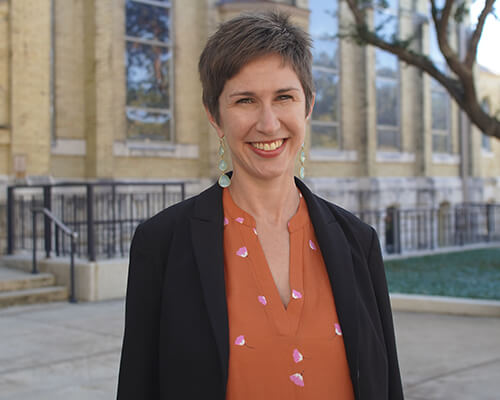 Of 2.3 million people living in San Antonio, more than 295,000 are immigrants, and about 175,000 are potentially at risk of deportation, according to the Vera Institute of Justice.
When Meghann Peace, Ph.D., Associate Professor of Spanish, arrived at St. Mary's University in 2014, she quickly wanted to put to use her civic-mindedness and love for language to help San Antonio's vulnerable, mostly Spanish-speaking immigrant population. Later, she would use these experiences to build an innovative course on the topic of immigration as well.
But first, the Pittsburgh native (fluent in Spanish and Portuguese) had to imbed herself in the community.
Peace volunteered dozens of hours at a Greyhound bus station in downtown San Antonio, hearing stories firsthand from immigrants seeking asylum in the United States — many of whom were trying to escape dangerous conditions in their homeland.
"I helped collect information on their experiences for RAICES (Refugee and Immigrant Center for Education and Legal Services)," Peace said. "One of the many things I wanted to know, for example, was if they were being treated right by border patrol agents."
In the process of communicating and building relationships with immigrants, Peace also delivered to them a "know your rights" orientation, because "they are dealing with piles of paperwork in English they often don't understand," she said.
With her experiences in mind, Peace eventually created a special-topics course for St. Mary's — Spanish for Immigration, Human Rights and Community Engagement — which she taught in Spring 2020.
With 23 students enrolled the class, Peace's course objectives for students included them gaining awareness about the lives of immigrants, performing volunteer work in the form of translating documents and immigrant testimonials into English, and sharing findings with the community.
"My students completed 417 hours of community service, and that was with half the semester being online due to the coronavirus pandemic," Peace said.
By the start of May, Peace said her students had translated 130 immigrant testimonials, which the San Antonio-based Interfaith Welcome Coalition — an organization supporting refugees and asylum seekers — will publish online.
Peace's students also translated various legal documents from English to Spanish for the organizations American Gateways and San Antonio Region Justice For Our Neighbors.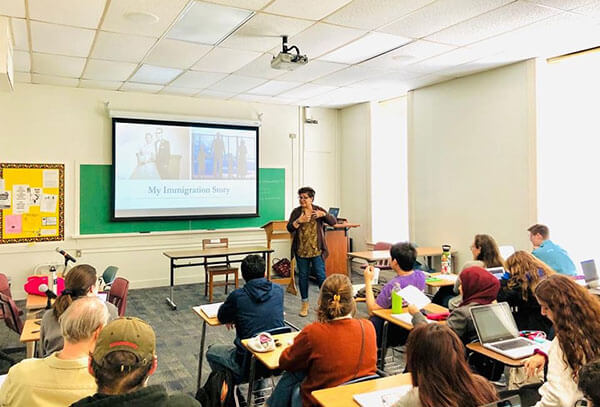 "Throughout Dr. Peace's class, multiple guest speakers talked to us about what we can do as activists to help those not being heard," said Gabriella Gonzalez, senior English major.
One guest speaker was Lorena Gonzalez, Ph.D., vice president of Urban Strategies — a social enterprise that equips, connects and resources faith- and community-based organizations serving hard-to-reach communities.
Soon, Gonzalez reached out to the vice president, and after a few conversations, was hired as a paid summer intern.
Gonzalez is helping Urban Strategies launch a Christian church called Akouo (Greek for "listen") in Westside San Antonio's Deco District before the end of summer 2020. As digital ethnographer — one of her many roles — Gonzalez is observing how people in the area use social media to better understand the topics that matter to them.
"The community here is so strong and full of hope, and there's an innate hustle," Gonzalez said. "The people have taught me how to listen."
Andrew Arizola, senior Political Science and Spanish major, also took Peace's class, calling it a "fascinating" experience.
"For the first couple of months, we had guest speakers from nonprofit organizations and also attorneys talk to us about what's happening at the southern border, what's happening as migrants wait in Mexico, and what's happening in the immigration detention facilities," Arizola said.
"The stories the guest speakers told us were heartbreaking," he said.
Arizola, as a McNair Scholar, is working on a research paper about immigration to the U.S. and how "Americans talk about it."
Peace hopes her class becomes a regular offering at St. Mary's. She believes it "fits right into our Marianist ideals to serve the community, to work for justice and peace."
"In the same way there are myths among immigrants, there are also myths in language — such as, everyone speaks English in the United States," she said. "By using immigrants' language to help them, I'm recognizing their humanity, and I care deeply about that."