by Alex Z. Salinas (B.A. '11, M.A. '19)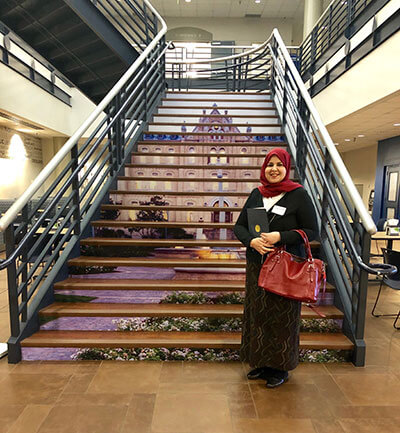 For 20 years, Khalaf had been a schoolteacher in Iraq, caring also full time for her mother suffering from Alzheimer's.
Earlier in 2018, Khalaf taught an 11-year-old student who was "playful, but wasn't keeping up with homework," she said.
Khalaf's colleagues warned her not to impede the student's academic progress — to just pass him — but her strong principles didn't allow her to act immorally.
After a tense meeting with the student's father in the principal's office at her school, Khalaf learned of the boy's family connection to a violent militia, which soon issued death threats on her own family.
"For six months, I was scared for my life," Khalaf said. "I had to hire a special driver to take me places and then go straight home."
Already having a master's degree in English and American literature from University of Baghdad — counting Jane Austen and Emily Brontë among her favorite writers — Khalaf researched similar programs in San Antonio, where her sister and brother-in-law were studying at St. Mary's.
"They wanted me to come sooner than later," so she emailed Mary Lynne Gasaway Hill, Ph.D., Graduate Program Director and Professor of English Literature and Language.
Hill became Khalaf's advocate, doing whatever she could to ease her admission to the University as Khalaf prepared paperwork for her visa.
Hill said she and Khalaf "emailed back and forth for nearly six months, troubleshooting various obstacles, discovering what her literary interests were and learning about each other."
When Khalaf arrived to Texas, she quickly realized the importance of independent transportation. "Back at home," she said, "I didn't need to learn to drive."
In the middle of night, Khalaf's sister taught her how to navigate on freeways. Within months of living in San Antonio, Khalaf — age 40 — received her driver's license.
While Khalaf initially kept private the PTSD-inducing events that led her to the U.S., St. Mary's English faculty Hill; Margaret Cantú-Sanchez, Ph.D.; and Catherine Whitlow served as Khalaf's confidants, making her feel welcome.
"They believed in me when I felt I was mumbling (in their classes) the whole time," Khalaf said. "The moment I got to St. Mary's, everybody was so helpful. The student life was also amazing, so encouraging."
Hill said she felt it her duty to the University's mission to assist Khalaf as an international student.
"The Marianist family spirit encourages and facilitates the recognition of the dignity of all individuals from our immediate neighborhood to across the globe, from a Roman Catholic tradition to a committed atheist, from those intellectually prepared to join our community to those who are struggling to bridge the gap," she said.
With plans to graduate from St. Mary's in 2021, Khalaf — who developed a passion for books as a child during the Iran-Iraq War — is continuing to devour challenging literature, especially from women writers, as she works on her first book, an autobiography.
"People all over the world share the same experiences and emotions in their writing," she said. "We're much more similar than we might think."