January 30, 2020
James Sinegal will speak at the Forum on Entrepreneurship Breakfast Series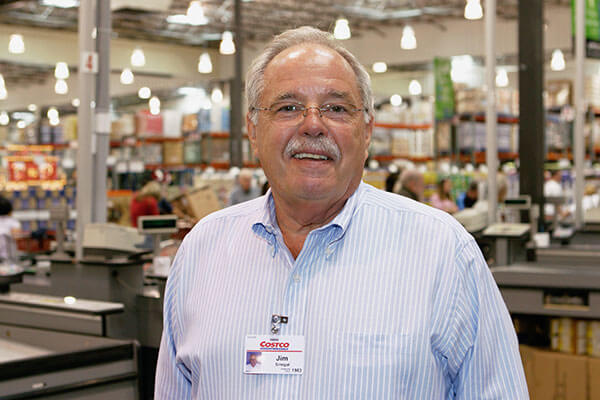 The breakfast discussion, titled "Costco since 1983," will be held at the Pearl Stable of the Historic Pearl Brewery.
The Meadows Center for Entrepreneurial Studies at St. Mary's University hosts the ongoing breakfast series. Registration, networking and breakfast at the Pearl Stable begin at 7 a.m., followed by the program at 8 a.m.
"We are privileged to host Jim Sinegal as our distinguished speaker for the Forum on Entrepreneurship Breakfast Series. This is a rare opportunity for students, faculty and the business community in San Antonio to hear from the leader of one of the most iconic brands in the industry," said Tanuja Singh, D.B.A., Dean of the Greehey School of Business. "Costco is considered the gold standard when it comes ethical leadership and caring for its employees and its partners."
Sinegal began his career in retail business in 1954. As an 18-year-old college student, he went to work for the legendary retail icon Sol Price at the discount store FedMart in San Diego. Sinegal remained working for Price for almost 30 years before striking out on his own to start Costco with his business partner, Jeff Brotman.
Costco today has revenues of more than $149 billion and operates 783 warehouses in 44 states, Puerto Rico and 13 countries. The company employs more than 254,000 people worldwide and has earned a reputation as a fair and progressive employer.
Sinegal retired from his executive position with Costco in 2012 and remained on the board of directors until January 2018.
Sinegal serves as a trustee for Fred Hutchinson Cancer Research Center. He was, until recently, a Senior Executive-in-Residence at Seattle University's ​Albers School of Business and Economics and serves in a similar capacity at his alma mater, San Diego State University. Sinegal also serves as an adviser at the Mendoza College of Business for the University of Notre Dame.
"Having sold more than $30 million in home improvement products a year for many years through Costco stores, I saw firsthand how Costco treated its vendors/suppliers differently than other big box stores — they were a true partner in every way," said Chris Edelen, Chairman of the Forum on Entrepreneurship Breakfast Series and St. Mary's Executive in Residence. "Mr. Sinegal will share details on how he was able to build one of the largest retail companies in the world. This inside look will be very valuable to both executives and students alike."
More about the Forum Breakfast series
The Meadows Center for Entrepreneurial Studies promotes and encourages entrepreneurial thought, business and activities locally, regionally and nationally. The purpose of the Forum on Entrepreneurship Breakfast Series is to offer the larger San Antonio community and students of St. Mary's University a forum to hear from some of the most talented individuals in industry and government. Funds generated from the series support student scholarships and encourage entrepreneurial activities in San Antonio and the region.
The series' 2019-2020 title sponsor is PwC. For information on sponsorship opportunities and purchasing tables and individual tickets, please contact Pamela Luna at forumbreakfast@stmarytx.edu or 210-436-3124.