June 25, 2020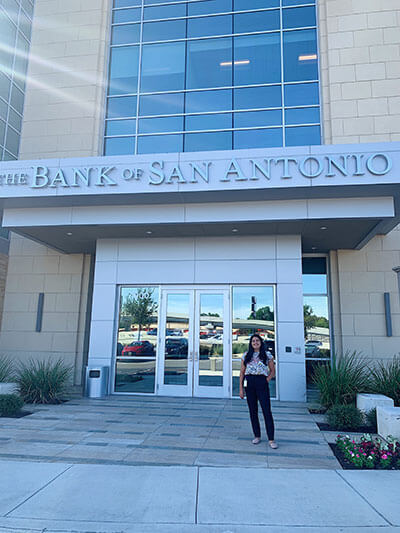 The coronavirus pandemic has interrupted society far and wide, but for three young women in the Greehey School of Business at St. Mary's University, their paid internships with a local bank are still going strong.
At the start of Spring 2020, The Bank of San Antonio — founded in 2007 and now with five locations across the city — hired as interns Natalie Varnell, Accounting and Data Analytics senior; and Anabel Korrodi and Vanessa Chavez, Accounting seniors; all of whom are Greehey Scholars.
But when the pandemic hit in March, with much of the business sector shut down, the students' internships were briefly on hiatus.
Chavez was in Brownsville with her family and initially without a place to stay in San Antonio, but was soon able to return to complete her internship with The Bank of San Antonio.
The bank also resummoned Korrodi and Varnell.
In January, Korrodi began work in the bank's credit department. After coming back in early April, she assisted with loan operations, then was reassigned back to the credit department.
"The Bank of San Antonio prides itself in providing excellent customer services and servicing small to medium-sized businesses," Korrodi said. "In the credit department, I look over financial statements and spread them into the system so we can generate financial ratios and get a better idea of financial health of the company."
Korrodi recalled the bank's "all-hands-on deck atmosphere" during the pandemic.
"Everyone had one common goal: get as many loans as soon as possible to those businesses who applied for the Paycheck Protection Program," she said.
Varnell — who's working from home in Dallas — uses databases to compile information about clients, preparing presentations for them and then recommending services to help safeguard them against fraud.
"It has been interesting to see how the pandemic is affecting so many businesses, but also to be part of a company that is helping people to continue paying their employees," Varnell said.
Gail Kaciuba, Ph.D., Emil C. E. Jurica Distinguished Professor of Accounting, who has supervised Korrodi's and Chavez's internships, called them "among the best students I've ever taught."
"Over 60% of all accountants in the U.S. are female," Kaciuba said. "Based on that, it isn't shocking that our impressive students landed these internships. What is most interesting, however, is that the bank really needed the three women to come back as soon as possible."
Korrodi, who has already been offered a job by KPMG — an international company that offers audit, tax and advisory services — said her plan after graduating from St. Mary's is to work full-time while pursuing a master's degree in accountancy and data analytics.
She said her relationships she's built on campus, in particular with the Rev. Jim Tobin, S.M., Greehey School of Business Chaplain, have shaped her into the person she is professionally and spiritually.
"I hope that whatever it is I do, is done to glorify God," she said.