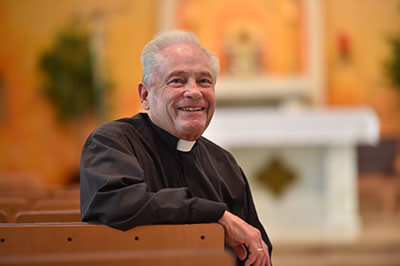 A brief stop in Calcutta, India, while serving Marianist communities in the region in 1997 gave the Rev. Jim Tobin, S.M., now the Greehey School of Business chaplain, the chance to experience the holiness of Mother Teresa in person — a memory he cherished as she was canonized Sept. 4.
"She was totally committed to Jesus, to serve him in the poorest of the poor," said Tobin, who was serving as chaplain for the Marianist brothers in Bangalore but stopped in Calcutta en route to a retreat for Marianist novices in Ranchi. "It was really clear, visible grace to see how God works through a healing being to bring his love into the world."
Tobin reached Calcutta in time for the Mass on the Feast of the Annunciation of the Blessed Virgin Mary and recalled entering the chapel at Mother Teresa's Missionaries of Charity. The chapel was packed with nuns and Mother Teresa sat in a wheelchair in the rear of the space, just one among many sisters, said Tobin, who noted her humility and simplicity.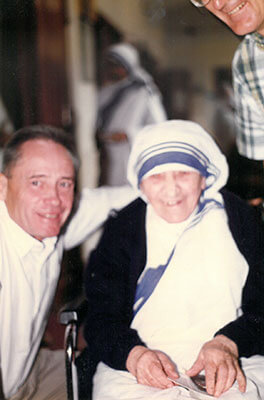 "I was privileged to give her Holy Communion," Tobin said. "The awareness that she was receiving the Body of Christ, that's the moment I will never forget, giving Mother Teresa the Eucharist, administering the Body of Christ to a saint."
As she received Holy Communion, Tobin recalled, "peace just seemed to radiate from her face."
"She was a very holy woman," Tobin said. "I wish I could have her holiness."
After Mass, Tobin and two other Marianists were invited to breakfast with Mother Teresa in her dining room.
"She offered me a fried egg, a cup of tea and a piece of bread" and they had a delightful conversation, Tobin said.
Tobin asked her to pray for his parish in St. Louis, and she agreed.
Tobin has traveled to India four times in all, as recently as this year with a group of St. Mary's University undergraduates pursuing an alternative spring break program. The group stayed with the Marianists in Bangalore and taught business development skills to high-school dropouts from the slums.
During those trips and through his work of ministering to business students, Tobin embraces the lessons learned from his brief visit with the Saint.
One lesson was the contemplative mode of being that Mother Teresa exhibited in his presence despite the frenetic surroundings. He continually channels that energy to refocus on what is truly important.
From their meeting, he felt "a challenge to be like her, a challenge to be a man of prayer, a challenge to bring Jesus to others through Mary as a Marianist," Tobin said. "I can't afford to forget that takeaway."