February 19, 2019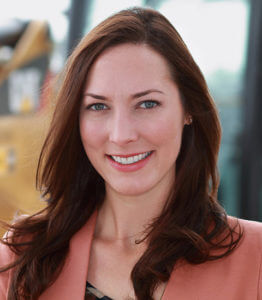 The breakfast discussion, titled "A legacy of innovation, values and growth," will be held at the Pearl Stable of the Historic Pearl Brewery.
The Meadows Center for Entrepreneurial Studies at St. Mary's University hosts the ongoing breakfast series. Registration, networking and breakfast at the Pearl Stable begin at 7 a.m., followed by the program at 8 a.m.
"We are delighted that our students, and our industry and community partners will hear from Corinna Holt Richter, who co-leads one of the most storied organizations in San Antonio," said Tanuja Singh, D.B.A., Dean of the Greehey School of Business. "She will address how she and her brother Peter John Holt are leading an organization whose commitment to values-driven leadership is reflected in the biggest as well as the smallest decisions at HOLT CAT and how these values have stood the test of time. I am personally looking forward to hearing from her about her leadership style and her goals for HOLT."
Established in 1933, HOLT CAT is the authorized Caterpillar® heavy equipment and engine dealer for much of Texas.
Richter leads the administrative and support divisions at HOLT CAT, including human resources, safety and environmental, information technology, organizational development, facilities management, continuous improvement, legal, marketing and strategy.
She is the great-great-granddaughter of Benjamin Holt, who introduced the first practical track-type tractor in 1904, which he named the Caterpillar®. She represents the fifth generation of the Holt family business, and her brother, Peter John Holt, is the CEO and general manager.
"Corinna will share with the audience her and her brother's story of taking over this legendary HOLT CAT brand from their father and grandfather before him," said Chris Edelen, Chairman of the Forum on Entrepreneurship Breakfast Series and St. Mary's Executive in Residence. "She will provide a unique view into one of the largest family-owned businesses in San Antonio and Texas and some of the surprises that they encountered as they assumed the leadership of the company."
More about the Forum Breakfast series
The Meadows Center for Entrepreneurial Studies promotes and encourages entrepreneurial thought, business and activities locally, regionally and nationally. The purpose of the Forum on Entrepreneurship Breakfast Series is to offer the larger San Antonio community and students of St. Mary's University a forum to hear from some of the most talented individuals in industry and government. Funds generated from the series support student scholarships and encourage entrepreneurial activities in San Antonio and the region.
The series' 2018-2019 title sponsor is PwC.