February 5, 2018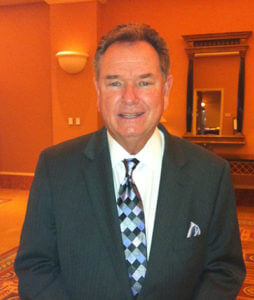 The event, hosted by the Meadows Center for Entrepreneurial Studies at St. Mary's University, will be held at the Pearl Stable of the Historic Pearl Brewery. Registration, networking and breakfast begin at 7 a.m., followed by the program at 8.
"James Garvin's experience overseeing the cutting-edge innovations at CytoBioScience will be great for our audience to hear," said Tanuja Singh, D.B.A., Dean of the Greehey School of Business. "San Antonio is a leader when it comes to innovations in bioscience. These innovations are attracting top talent as well as investment to our city. This alliance between biotech and finance sectors is not only huge for San Antonio and South Texas – it's important on a national scale. It's also an important development for higher education, and we are delighted to be a part of this conversation."
Garvin joined CytoBioScience Inc. in 2015 as CEO. Before that, he held positions such as CEO, chief operating officer and managing director of investment banking for various biotech and finance companies. With 29 years of experience in his respective fields, Garvin's work was recognized by the French Academy of Science, and he was named one of 16 health care innovators in Texas for 2017.
CytoBioScience Inc. was founded in Germany and moved its headquarters to San Antonio in 2015. The company creates and manufactures devices that allow researchers, medical institutions and pharmaceutical companies to better understand how human cells react to medicine.
Garvin earned his Ph.D. in urban studies/affairs at the University of New Orleans in 1994.
"James is a true entrepreneur, and we are excited that he will be sharing his experiences in the biotech industry as well as his strategy for moving the company from Germany to San Antonio," said Chris Edelen, Chairman of the Forum on Entrepreneurship Breakfast Series and St. Mary's Executive in Residence. "In addition to his work in biotech and finance, James also serves on the board of the Zerah Foundation, which provides educational opportunities for underprivileged children in India. His humanitarian efforts are in line with our mission at St. Mary's University, so the business community and our students are in for a treat."
More about the Forum Breakfast series
The Meadows Center for Entrepreneurial Studies promotes and encourages entrepreneurial thought, business and activities locally, regionally and nationally. The purpose of the Forum on Entrepreneurship Breakfast Series is to offer the larger San Antonio community and students of St. Mary's University a forum to hear from some of the most talented individuals in industry and government. Funds generated from the series support student scholarships and encourage entrepreneurial activities in San Antonio and the region.
Lynda Ellis, owner, president and CEO of Capitol Concierge, will be the featured speaker at the next Forum Breakfast event on Thursday, April 5, 2018.
At the previous event, in November, the Forum Breakfast series featured Dennis Noll – CEO of the San Antonio Area Foundation. Past speakers include Daymond John, "Shark Tank" investor and founder of FUBU; Colleen Barrett, president emerita and corporate secretary of Southwest Airlines; Stuart Parker, CEO of USAA; Paula Gold-Williams, CEO of CPS Energy; and Bill Greehey, chairman of NuStar Energy, L.P.
The series' 2017-18 title sponsor is PwC. For information on sponsorship opportunities and purchasing tables and individual tickets, please contact Pamela Duffy, CAP-OM, at forumbreakfast@stmarytx.edu or 210-436-3124.