April 26, 2017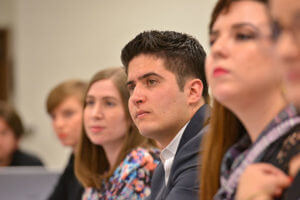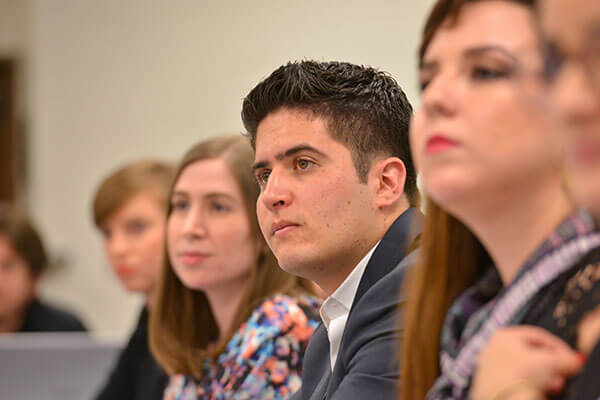 Scholarships available to members of area chambers of commerce
The MBA for Professionals program within the St. Mary's University Greehey School of Business recently unveiled its San Antonio Chambers Scholars initiative.
In partnership with the San Antonio Chamber of Commerce, the San Antonio Hispanic Chamber of Commerce, and the West San Antonio Chamber of Commerce, scholarships will be awarded to chamber members who apply to, and are accepted to the inaugural MBA for Professionals class.
The MBA for Professionals (MBAP) is designed to address the needs of today's graduate student, who works full time and seeks courses tailored to their career and a flexible degree completion schedule. The part-time format allows student to complete the program at their own pace, within one to three years. No GRE or GMAT exam is required to apply.
This initiative celebrates chamber members and the University's mutual mission-driven desires to expand access to higher education, strengthen the San Antonio business community, and develop a 21st-century workforce that successfully competes in the global economy. For more information, see the MBA and Graduate Business Programs page.
A new vision
In December, the Greehey School of Business began accepting students for the MBAP program, which begins classes in August.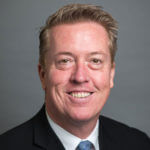 Jeremy Grace took the reins as director of Master of Business programs in May 2016 and has already begun implementing his vision.
"We are thrilled to announce our newest MBA program here at the Greehey School of Business," Grace said in December. "Our new MBA for Professionals allows individuals who are seeking to earn an MBA at their own pace and has special areas of industry concentration. We believe the program is right for any individual who wishes to transform their professional trajectory or reinvent their career path."
Previously, Grace served as director of the Full-Time MBA program at Rice's Jones Graduate School of Business.
Students must take 21 credit hours of core courses, which include International Business; Marketing Management; Management of Information and Technology; Accounting for Decision Making; Financial Management; Leaders, Strategy & Society; and Data Visualization and Financial Modeling.
Additional courses depend on the student's chosen concentration: Compliance, Data Analytics, General Management, Health Management and International Business.
Tuition and fees will be consistent with current and future University rates.
"Our AACSB accreditation puts the Greehey School of Business in the top 5 percent in the world and assures a real ROI for the MBA," Grace said.
Application requirements
Four-year undergraduate degree, either from an accredited U.S. college or university or a comparable degree from a foreign institution approved by either the government or relevant accrediting authority
Official transcripts
Personal statement
Résumé (relevant professional experience, affiliations and service)
Two letters of recommendation
Completed application form
The Greehey MBA for Values-driven Leaders is a 16-month, cohort-based program that incorporates advanced graduate-level academic preparation with a special emphasis on ethical leadership, corporate social responsibility, sustainability and social entrepreneurship topics. It includes a concentrated international field-study experience that prepares students to engage in business with diverse cultures.
For more information on the MBA programs at St. Mary's, contact Grace at 210-431-2027 or jmgrace@stmarytx.edu.