Degree
Master of Business Administration

https://www.stmarytx.edu/academics/programs/mba-values/

https://www.stmarytx.edu/wp-content/uploads/2016/07/business-administration-1920×450.png
Contact
In response to the COVID-19 pandemic, the GRE/GMAT/MAT test is optional for prospective students applying to this program for either the Summer 2020 or Fall 2020 semesters.
Is the Greehey MBA Right for You?
The Greehey MBA prepares professionals for responsible leadership positions. They make an impact on their enterprises, institutions and communities by positively transforming themselves.
What sets this program apart:
Study Abroad – all students travel abroad to learn from local experts.
Saturday Labs – labs focus on essential skills that complement the curriculum and accommodate working professionals.
Startup Plans – over the summer, students formulate and pitch business ideas, much like a three-day startup.
Cohort-Based learning – students start classes together in the fall and continue throughout the program with their cohort, allowing them to build lasting professional relationships and peer mentoring.
Dynamic, real-world case studies and problem-solving exercises foster innovative mindsets and applied methods of business strategy. Students gain the decision-making skills needed to advance in today's fast-paced business climate.
Saturday Labs
Saturday lab sessions accommodate working professionals and focus on essential skills. The labs are divided into a series of 15 Saturdays. These Advanced Business Skills Labs support key learning outcomes.
Labs fall into three categories:
Data Analytics
Communication and Team Dynamics
Values-based Leadership
Communication and Team Dynamics sessions integrate student presentations, both individual and group, case studies, and reading samples that promote conversation, collaboration and oral communication.
The Values-Based Leadership session partners with Holt Development Services Inc. to build leadership culture among our students through personalized behavioral assessments and exercises to discover personal purpose and an understanding of the instinctive behavioral styles that affect teams and business environments.
Rapid Innovation of Social Enterprise
During the summer, Greehey MBA students have an opportunity to come up with ideas in the context of social innovation and develop them into viable business concepts that also accomplish a social purpose.
RISE is modeled after a three-day startup and combines design thinking, entrepreneurial thinking and business planning in a dynamic and engaging environment.
Students are divided into teams to pitch business ideas with a strong purpose and social impact, and present to a hand-selected board of professors and business leaders.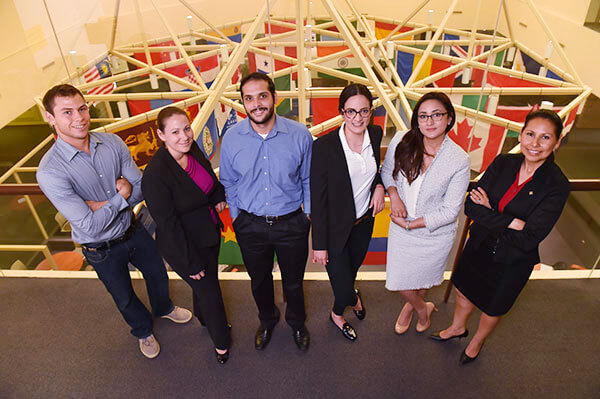 Degree Plan
Students can pursue a Master of Business Administration for Values-Driven Leaders. In addition to their major courses, students are required to attend an MBA orientation activity.
By design, this program is a lock-step, cohort-based, curriculum experience.
MBA Courses
Students follow a specific sequence of coursework, working through the whole program in a cohort – a group of students who take all required classes together.
Self-assessment exercises, goal-setting activities and individual and group projects provide a holistic context for learning, application and practice.
In the process, students develop close working relationships that will benefit them and their organizations throughout their careers.
View the catalog for course descriptions and sequence:
Admission
Admission is granted to individuals with high promise for success in graduate study, as demonstrated through previous schooling and testing. All applicants must hold a bachelor's degree or the equivalent from an accredited college or university.
Online application
Official transcript from all colleges and universities attended
Official test scores: GRE, GMAT, or MAT as required by the program.
Two (2) letters of recommendation, preferably from a recent instructor and/or employer
Resume or Curriculum Vitae/C.V.
Statement of Purpose/Professional goal statement

Admission Requirements
Financial Aid
St. Mary's offers various scholarships, grants and assistantships to graduate students. Military, their dependents and Department of Defense employees may be eligible for a tuition discount.
Study Abroad Opportunities
Today, every facet of business is touched by the global economy, and no professional can operate successfully without an understanding of this context.
An integral part of our Greehey MBA curriculum is the International Field Study. This built-in experience takes students to global destinations for a dynamic learning experience. They are exposed to diverse business cultures and learn from local experts.
The trip is short enough to fit within the average professional's vacation time. This unique experience lets students see firsthand how business is done in-country and speak with business leaders on formal company visits and tours.
Students are given time to immerse themselves in diverse cultures through outdoor excursions, food tasting, shopping and sightseeing.
Greehey MBA graduates have had the opportunity to travel to Brazil, France, Germany, India, Netherlands, Mexico, and South Korea.