by Jasmine DeLeon (B.A. '11, M.A. '15)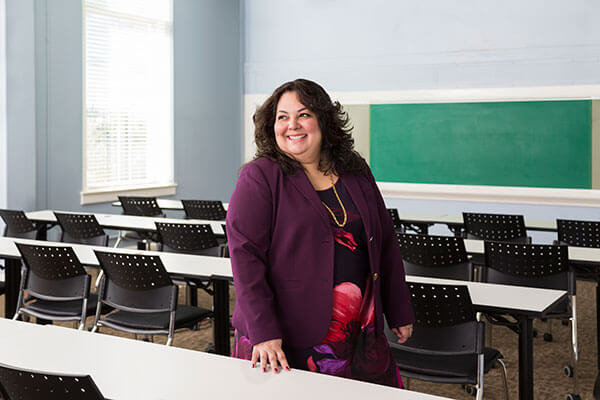 After 12 years of working in the construction industry, Julissa Carielo (B.B.A. '95) quit her job to start her own construction firm. She began with only two employees. Ten years later, Carielo's construction firm, Tejas Premier Building Contractor Inc., has more than 60 employees working throughout Texas. In the process, she learned a few things and was ready to share them.
Last year, Carielo, chair of the San Antonio Hispanic Chamber of Commerce's Small Business Advocacy Committee, joined with fellow St. Mary's alumni Willie Ng (M.P.A. '10), Leslie Garcia (B.B.A. '94) and Chris Martinez (B.B.A. '00), as well as the Hispanic Chamber to establish the Maestro Entrepreneur Center in San Antonio.
Gold & Blue talked with Carielo about her vision for helping small businesses and businesses owned by minorities, women and veterans.
Q: What services does the Maestro Center provide?
A: The center is a nonprofit business incubator and growth accelerator offering affordable space, including professional offices, warehouse spaces, an industrial yard and a commercial kitchen, complemented with dynamic, small-business education programs. Additionally, the center brings together maestros — leaders of today's most successful small businesses — to mentor and help grow participating entrepreneurs. Our vision is to develop a place where learning and collaboration happens.
We have collaborated with St. Mary's students through the University's Harvey Najim Center for Business Innovation and Social Responsibility on training sessions on design thinking and mind-mapping strategies. Our goal now is to formalize a program to further engage MBA students and inspire students to become entrepreneurs.
Q: What are some of the challenges small businesses encounter when trying to grow?
A: Financial capacity building is the No. 1 struggle. Many small businesses don't have adequate access to capital, and if they do, they don't know how to manage it to increase their capacity. Managing the business and keeping the cash flowing makes it possible to exist and grow. To help them, we offer capacity-building sessions all year long and have partnered with financial institutions that are willing to teach and provide loans to qualifying participants.
Q: How has the center been successful in its first year?
A: We focus on the specific needs of each business owner by pairing them with mentors who help them address their needs. We also offer classes on the topics with which we see many business owners struggling, so they can learn from the training sessions and further discuss the topic with their mentors. Our recipe for success is a combination of expert training sessions, one-on-one mentoring and a genuine interest in helping businesses succeed. Before establishing the Maestro Center, I had met so many business owners and realized we all share similar struggles. We all want to do better and keep advancing. Maestro gives them a place where they can ask for specific training and guidance.