by Anndria Flores (B.A. '12, M.A. '16)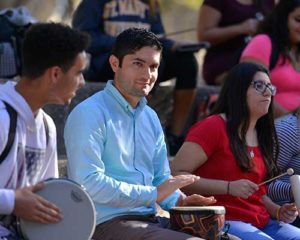 On a warm fall day, a group of young men and women casually gathered near the Quad on the St. Mary's University campus and began playing impromptu beats on a variety of percussion instruments. They soon drew a crowd.
As more students approached, Matthew Mireles handed out instruments, inviting them into the drum circle. It wasn't a traditional college class, but it was just the kind of unconventional lesson Mireles likes to teach.
"Nowadays, music is everywhere. It has become sort of a background. My goal was to dive deeper into more meaningful music making," he said. "Once you find the meaningful experiences of music, that's the most beautiful thing you can experience. It brings joy and happiness for everyone."
With his youthful looks and infectious energy, it might be easy to mistake Mireles for a St. Mary's student — and, not so long ago, he was. A 2007 St. Mary's graduate, he went on to earn his doctorate in Music and returned in fall 2016 as Assistant Professor of Music and Director of Bands.
A nationally recognized euphonium player who has recorded two albums, Mireles comes from a long line of St. Mary's alumni, which included his father, the late Honorable Paul Andrew "Andy" Mireles (B.A. '72, J.D. '75), and other family members. He came to St. Mary's as an undergraduate because it was a place dear to his family. But it was what he learned and experienced while a student that made him want to come back as a faculty member.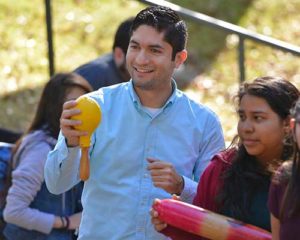 "I knew I would be working with students who were thirsty for knowledge and would want to work with me on a closer level to pursue their goals," Mireles said. "I'm helping them pursue their passion for music, whether they're majoring in Music or not."
Studying music with Mireles has been a motivating factor for trumpet player Brandon Guerrero, a senior Music major who hopes to one day become a band director.
"As a student, I can feel the great experience Dr. Mireles has as a professional musician and instructor in the way he speaks and teaches. It helps me push myself further in my own pursuit of a career in music."
Mireles earned a Master of Music degree at the University of Alabama and a Doctor of Musical Arts degree from the University of Wisconsin-Madison. Along the way, Mireles won the gold medal in the Leonard Falcone International Euphonium and Tuba Festival competition, the premier tuba and euphonium competition in the world.
"It was one of the highlights of my life," he said. "It showed me that if I put hard work into something — if I put passion into something I want to do — then I can do it. At St. Mary's, that is what I try to impart to my students."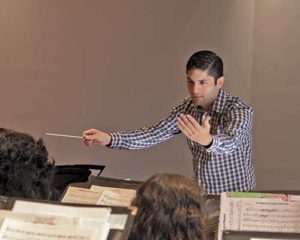 He has recorded two albums: Boreas Quartet, which won the Roger Bobo Award for Excellence in Recording from the International Tuba Euphonium Association, and Prometheus, which he recorded while pursuing his doctorate. Mireles explained that his success would not have been possible without the people who helped him along the way — many of those at St. Mary's.
"I tell people that whatever career you pursue or program you want to get into, it never exists in a vacuum," Mireles said. "Attending St. Mary's was one of the best decisions I ever made because I learned about every aspect of life, of being a professional, of being a human being in a complex world."
As a professor, Mireles' goal is to return the favor, pushing his students to be better musicians, people, educators and, ultimately, better citizens.
"I'm trying to get them to see how far they can go. Maybe even further than they thought they could."