by Jasmine DeLeon (B.A. '11, M.A. '15)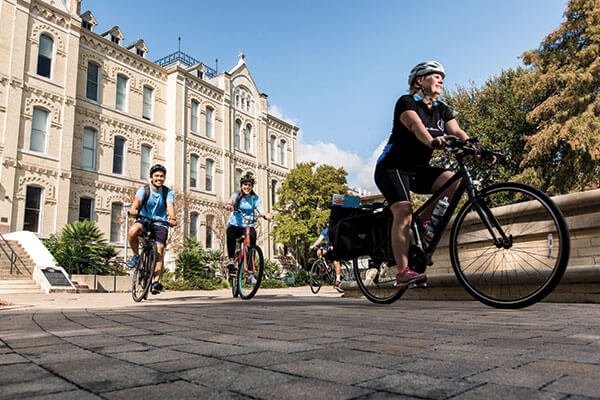 Her first job was at age 9, riding her bike to sell eggs from her family's farm to neighbors. Her second job was at age 14, working in a library, shelving books and taking care of the card catalog. Today, you can find Stephanie G. Ward, Ph.D., back on her bike combining bicycling and books.
A few years ago, Ward, Associate Professor and Chair of Management in the Greehey School of Business, read a magazine story about Ride for Reading, an organization in Nashville that uses volunteers on bicycles to deliver books to children in low-income areas.
With one of the highest illiteracy rates in Texas, Ward figured San Antonio could use an organization like Ride for Reading.
Ward shared the story with pretty much anyone who would listen and, after reaching out to Ride for Reading's headquarters, organized her first delivery of books to Carroll Early Childhood Education Center on San Antonio's East Side.
"After seeing the smiling faces of the children and hearing so many of them say they couldn't believe they got to take the books home and keep them, I knew that we had to continue," Ward said. "There are so many families in San Antonio that work really hard and just don't have the ability to provide the books that their children need."
Ward started building interest in the project in grassroots fashion.
"We started holding volunteer meetings to determine if we thought we could make Ride for Reading a sustainable organization in San Antonio," she said.
The opportunity to help San Antonio's children resonated with people from all walks of life, including St. Mary's alumna Devan Hartung (B.B.A. '15), vice chair of Ride for Reading San Antonio.
"Having books at home was such a normal thing for me and my friends growing up," Hartung said. "Ride for Reading has really helped put in perspective that having books in a home is not so normal for many young children."
Increasing the number of books available at home is a simple and relatively low-cost way to improve literacy. National statistics show a majority of low-income families do not have children's books in their homes. Ride for Reading San Antonio hopes to tackle this by allowing children to choose an age-appropriate book and keep it, enhancing reading performance and academic achievement in the long-run.
Ward and her faithful Ride for Reading team, including the SATX Social Ride cycling group and numerous St. Mary's alumni, have delivered more than 5,000 books to children at local schools.
Earlier this year, Ride for Reading San Antonio was formally recognized by the state of Texas and became the first nationally recognized chapter in the country.
"It's a huge testament to the hard work that everyone has done to make this such a sustainable initiative," Ward said. "It just goes to show that people in our community really care about helping children become the best they can be."
While Ride for Reading delivers books to children via bicycling, non-cyclists can still deliver books on their own or meet the group at the delivery sites to help children select books.
Ward and the San Antonio chapter plan to work with Ride for Reading Nashville to develop more chapters in the country by providing guidance and sharing the San Antonio chapter's learning experiences.
Ward said she is surprised at how quickly the effort has grown.
"It really resonates with people. People care about our community and want to give kids the best chance to succeed."