by Lynette Montalvo (B.A. '16)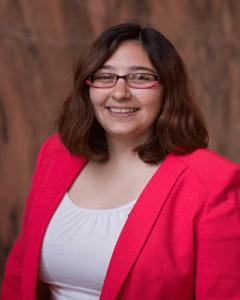 Stefanie Ramirez (B.A. '14) embodies one of St. Mary's most notable core values: service to others.
Ramirez is committed to ensuring every child in America has access to and receives a quality education. She considers herself an advocate for education reform and has her sights set on helping improve our nation's public schools by advocating for reducing standardized classes and closing the education gap for students of lower socioeconomic status — with access to less resources than their peers — and special-needs children who struggle academically.
While her academic accolades are impressive — Ramirez graduated summa cum laude from St. Mary's with a bachelor's degree in Political Science and Interdisciplinary Reading — she found learning difficult as a child. Fortunately, her educational experience turned around thanks to the help of a concerned teacher.
"I was inspired by one of my teachers who reassured me that I could be successful," she said.
Ramirez considers herself one of the lucky ones. "I could have easily fallen through the cracks like other students."
While working to get on track with her peers, Ramirez noticed systemic issues within the school system at a young age.
She discovered there was a distinct difference between how much attention special-needs and lower-income students got compared to students of higher socioeconomic backgrounds and those who performed well academically.
"I also noticed that a lot of teaching was based primarily off of standardized testing," she said.
When Ramirez entered St. Mary's University, she was determined to learn how to address the inequities she experienced.
Along the way she became acquainted with Associate Professor Arturo Vega, Ph.D., during a government course. Vega quickly realized Ramirez was a goal-oriented and ambitious student.
"She came to St. Mary's already knowing what she wanted to do after she graduated," Vega said.
"Dr. Vega began to be a great mentor for me," Ramirez said. "He encouraged me to consider different options including law school."
Ramirez engaged with law professors at St. Mary's School of Law and discovered her passion for law when she sat in on classes.
Eager to practice what she learned in the classroom, Ramirez served as an intern for the office of then-mayor Julian Castro and the Bexar County District Attorney's Office. While at the mayor's office, Ramirez worked to bring college awareness to the citizens of San Antonio through SA2020's Destination College initiative.
After graduating from St. Mary's, Ramirez joined Teach for America (TFA) and taught as a fourth-grade teacher in the San Antonio Independent School District for two years. There, Ramirez gained a new perspective of the education system. She described her experience as a teacher as "the most rewarding time."
"I loved the kids I got to work with, and I loved seeing them improve," she said.
After her teaching stint with TFA, Ramirez knew that she wanted to connect education and law, so she enrolled at the University of Pennsylvania Law School, where she is currently pursuing a joint Doctor of Jurisprudence and Master of Science in Education Policy.
While in law school, she plans to participate in pro bono groups to obtain more experience and knowledge of the education system and processes.
When she's not busy studying, Ramirez works with the Student Discipline Advocacy Service where she advocates for the rights of students facing suspension by meeting with them and their families. She helps them prepare to tell their stories before an informal hearing officer.
Ramirez is also working with her fellow classmates to form the Youth Advocacy Project, a project centered on helping local-area youth in Pennsylvania. She understands from experience that a helping hand and mentor for our nation's at-risk youth can be the main factor in their decision to go to college.