November 17, 2016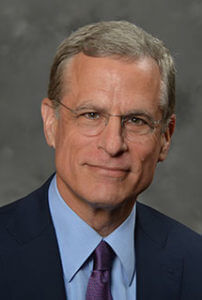 The event – hosted by the Meadows Center for Entrepreneurial Studies at St. Mary's University – will be held at the Pearl Stable of the Historic Pearl Brewery. Registration, networking and breakfast begin at 7 a.m., followed by the program at 8.
Kaplan became the 13th president and CEO of the Federal Reserve Bank of Dallas on Sept. 8, 2015. He represents the Eleventh Federal Reserve District on the Federal Open Market Committee in the formulation of U.S. monetary policy, and he oversees the 1,200 employees of the Dallas Fed.
He also held various positions during a 23-year career at the Goldman Sachs Group, Inc., and spent nine years on the faculty of Harvard Business School.
"We are thrilled to welcome Mr. Kaplan to the Forum on Entrepreneurship Breakfast Series, said Tanuja Singh, D.B.A., Dean of the Greehey School of Business. "Hearing from nationally known speakers such as Mr. Kaplan is a rare treat for our students and industry partners. It is an honor for the Greehey School of Business to host Mr. Kaplan, whose decisions have shaped monetary policy and investment banking. As a former Harvard Professor, he has also played an equally important role in shaping young minds to be future leaders."
The Meadows Center for Entrepreneurial Studies promotes and encourages entrepreneurial thought, business and activities locally, regionally and nationally. The purpose of the Forum on Entrepreneurship Breakfast Series is to offer the larger San Antonio community and students of St. Mary's University a forum to hear from some of the most talented individuals in industry and government. Funds generated from the series support student scholarships and encourage entrepreneurial activities in San Antonio and the region.
"This is another great opportunity for students and the San Antonio business community to hear world-class business leaders like Mr. Kaplan," said Chris Edelen, St. Mary's Executive in Residence and Chairman of the Breakfast Series. "They can see firsthand what education, dedication and passion can produce."
On Sept. 27, the Forum Breakfast series featured Adam Hamilton, P.E., president and CEO of Southwest Research Institute. Past speakers include Daymond John, "Shark Tank" investor and founder of FUBU; Colleen Barrett, president emerita and corporate secretary of Southwest Airlines; Stuart Parker, CEO of USAA; Paula Gold-Williams, CEO of CPS Energy; and Bill Greehey, chairman of NuStar Energy, L.P.
The series' 2016-17 title sponsor is PwC. For information on sponsorship opportunities and purchasing tables and individual tickets, please contact Pamela Duffy, CAP-OM, at forumbreakfast@stmarytx.edu or 210-436-3124.
More about Robert Kaplan, from his bio
Before taking the reins of the Dallas Fed, Robert Kaplan was the Martin Marshall Professor of Management Practice and a Senior Associate Dean at Harvard Business School.
Before his time at Harvard began in 2006. He was vice chairman of Goldman Sachs, with global responsibility for its Investment Banking and Investment Management Divisions. Previously, he served as global co-head of the Investment Banking Division. He was also a member of the firm's Management Committee and served as co-chairman of the firm's Partnership Committee and chairman of the Goldman Sachs Pine Street Leadership Program. Kaplan served in several other roles at Goldman Sachs, including head of the Corporate Finance Department, head of Asia-Pacific Investment Banking, and head of the high-yield department in Investment Banking. He became a partner in 1990 and was given the honorary title of senior director when he left in 2006.
He is the author of several books, including "What You Really Need to Lead: The Power of Thinking and Acting Like an Owner," "What You're Really Meant To Do: A Road Map for Reaching Your Unique Potential" and "What to Ask the Person in the Mirror: Critical Questions for Becoming a More Effective Leader and Reaching Your Potential."
Currently, he serves as co-chairman of Project ALS and co-chairman of the Draper Richards Kaplan Foundation, a global venture philanthropy firm that invests in developing nonprofit enterprises dedicated to addressing social issues. He is also a board member of Harvard Medical School.
Kaplan previously served on the boards of State Street Corporation, Harvard Management Company, Bed Bath & Beyond, and Heidrick & Struggles International, Inc. He was also a trustee of the Ford Foundation; founding board chair of the TEAK Fellowship; co-founder and chairman of Indaba Capital Management, LP; and chairman of the Investment Advisory Committee at Google, Inc. He also was appointed by the governor of Kansas as a member of the Kansas Health Policy Authority Board.
Kaplan received a B.B.A. from the University of Kansas and an M.B.A. from Harvard Business School.