About the instrumental music program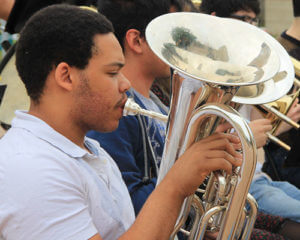 Students can choose from three options in Instrumental Music: a teacher pre-certification major, or a music minor. A Vocal Music major is also available, as well as music ensembles that accept both music majors and non-music majors.
COURSES AND DEGREE PLANS
All of the music programs at St. Mary's University are highly customized, tailored to each student's unique talents and career goals. Please see the catalog for the most up-to-date course information and degree plans:
Bachelor of Arts in Music – Instrumental Requirements and Degree Plan
Bachelor of Arts in Music – Instrumental with Pre-Certification Requirements and Degree Plan
Minor in Music Requirements and Plan
Music, Instrumental with Pre-Certification
This music program with pre-certification program is devoted to helping students become outstanding musicians and inspiring educators.
The Music Department works closely with the Education Department at St. Mary's to ensure that students majoring in music and seeking State of Texas teacher certification are prepared to meet all requirements for teacher certification in accordance with the standards established by the Texas Education Agency and Texas State Board for Educator Certification.
Music educators are in a unique position to uplift and empower communities through their work in elementary and secondary schools. The St. Mary's University Department of Music is committed to training these future community leaders through a rigorous program designed to help them succeed.
Graduates of the program are some of the highest achieving high school, middle school and collegiate band directors in Texas. Graduates have also earned administrative positions in school district fine arts departments.
Coursework includes study on your instrument with our world-renowned faculty, as well as courses in music theory, music history, ear training, conducting, instrumental fundamentals courses and music education.
Music education can help spark a child's imagination or ignite a lifetime of passion. When you provide a child with new worlds to explore and challenges to tackle, the possibilities are endless. Music education should not be a privilege for a lucky few, it should be a part of every child's world of possibility. – Hillary Clinton
Career opportunities
Band Director: High school and middle school band directors lead music programs that change people's lives through music and community involvement. Our graduates have unique abilities to design and implement successful instrumental music programs. Our majors are strong in the areas of teaching, conducting, performing, mentoring, fundraising, leading and motivating.
Orchestra Director: School orchestra directors have tremendous opportunities to enrich the lives of students and the community through their music programs. Our graduates are highly motivated to become strong leaders in the orchestral music community.
Elementary Music Teacher: Guiding young students through their first experiences making music is one of the most rewarding occupations in the world. Elementary students are always enthusiastic about learning about music and playing instruments. Our program prepares graduates to teach these musically thirsty classes in a way that changes their lives forever.
University Music Professor: Professors have great opportunities to advance their specific fields through teaching, performance, research and collaboration. Students wanting to become higher education professors work with the best musicians in the world right here on campus. Our students are leading candidates for graduate school assistantships and funding around the United States.
Private Instructor: Build a career offering private lessons to students young and old. The market for private lesson teachers in enormous in the state of Texas. With work on campus in the Department of Music and Greehey School of Business, St. Mary's graduates are in high demand as private teachers for their high level of musicianship, teaching and strong capabilities in business and marketing.
Request more information about this program
Music, Instrumental Performance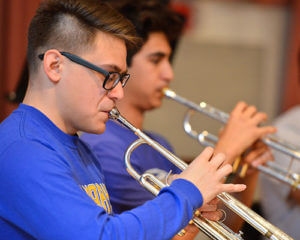 The Instrumental Performance Music Degree focuses on helping students achieve their highest level of musicianship as performers. Along with the music major and liberal arts coursework, performance majors focus on private study with St. Mary's world-renowned instrumental faculty members, as well as performances in the high-quality ensembles on campus.
In addition to the rigorous program on campus, St. Mary's students have the unique opportunity of being connected with the San Antonio live performance scene through our network of distinguished faculty and alumni.
Career opportunities
Accompanist: Pianists are always in demand to accompany professional ensembles, school ensembles and private rehearsals and performances. Accompanists can also perform in chamber music settings or solo recitals. Professionals can build a career full of vast opportunities in secular or sacred music.
Arranger: Work with professional and school ensembles to arrange music for concerts and other events. Learn to arrange music for military ensembles, marching band shows, jazz orchestras, musical theatre and more.
Arts Administrator: Arts administrators work with professional ensembles and organizations to organize events, market performances, contract personnel and handle financial issues.
Audio Engineer: Learn modern audio recording and engineering techniques to put you in demand in the recording or live audio industry. Audio engineers are essential for recording, editing, mixing and mastering live performances and recorded albums.
Composer: Learn to write music for band, orchestra, choir or theatre. Composers are in demand for concerts, movie music, video game soundtracks and marching band shows.
Conductor: Lead ensembles through rehearsals and performances of modern and past musical styles. Coursework is designed to help aspiring conductors learn leadership skills along with high quality musicianship.
Military Band Musician: Bands, orchestras and chamber ensembles provide music for many different areas of the military. With great salary and benefits, musicians pursuing a career in a military band have tremendous opportunities for performing, teaching and outreach.
Soloist: Make a living touring different venues and performing solo recitals. Capture the imagination of audiences and allow them to experience the highest quality music with your instrument.
Symphony Musician: Develop your musicianship to the highest level and audition for a professional symphony orchestra. Perform on your instrument all year round with other top professional musicians in an ensemble that enriches the community.
Request more information about this program
Music Ensembles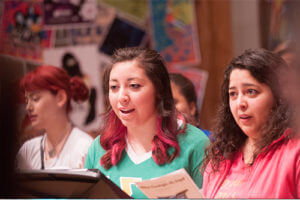 In addition to degrees and minors, students can choose to participate in a wide variety of ensembles including:
Brass Ensemble
Chapel Choir
Concert Choir
Flute Ensemble
Guitar Ensemble
Jazz Combo
Jazz Orchestra
Opera Workshop
Percussion Ensemble
Rattler Band
String Ensemble
Wind Ensemble
Woodwind Ensemble
Learn more about the St. Mary's Music Program
Loading…
/**/