About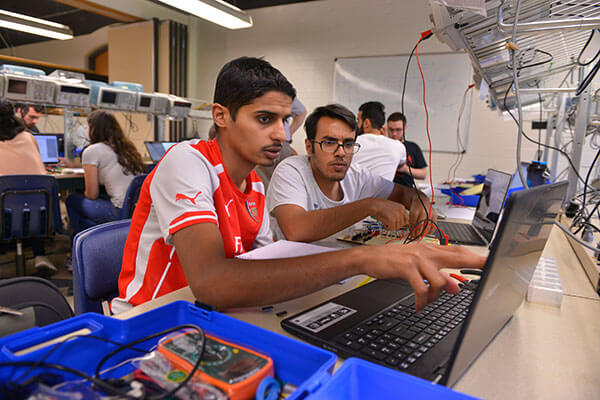 Electrical engineers apply the physics and mathematics of electricity, electronics and electromagnetism to both large and small scale systems to process information and transmit electricity.
The Electrical Engineering program at St. Mary's is designed to prepare students for responsible engineering positions in design, development, research, applications and operation in the fields of communications, control systems, digital signal processing, electromagnetics, digital and analog electronic circuits, and power systems.
Students gain extensive experience with the most advanced engineering tools including hardware and software.
Students become well-versed in science, mathematics and current technical knowledge. A semester-long mandatory internship introduces students to real-life problems and environments. They gain extensive laboratory experience and, in some cases, participate in faculty research projects.
Electrical Engineering (B.S.): Accredited by the Engineering Accreditation Commission of ABET, http://www.abet.org
Degree Plan
Bachelor of Science in Electrical Engineering — Degree Plan
Careers
A recent alumna on an internship she took: "The internship at NIST not only further developed and reinforced my technical engineering abilities, but gave me an opportunity to improve my collaboration and communication skills."
– Kayla Berger (B.S. '16) — Read her story.
Electrical engineering is a broad field that offers many possible career options. Additionally, many St. Mary's Electrical Engineering graduates go on to graduate and doctoral programs in many different engineering fields.
Career and industry possibilities include:
Aerospace engineer
Biomedical engineer
Broadcast engineer
Communication engineer
Consultant
Control engineer
Design engineer
Electromechanical engineer
Embedded system engineer
Instrumentation engineer
Network engineer
Power engineer
Semiconductor engineer
Wireless engineer
Facilities and Student Activities
Electrical Engineering Labs and Facilities
Laboratory facilities are available in the engineering buildings, allowing for basic and advanced laboratory instruction in electronics, digital signal processing, control systems, microelectronics, communications, embedded systems, power, and digital systems.
The research laboratory equipped is with both UNIX and Windows workstations.
Student Activities and Engagement
Many electrical engineering majors work as interns in local organizations such as Southwest Research Institute, The University of Texas Health Science Center, Motorola, NASA, City Public Service, and Harris Electronics.
Engineering students also participate in funded faculty research. Many junior and senior students volunteer their time to tutor freshmen and sophomores in mathematics and engineering courses.
Students participate in the student chapters of IEEE and IIE, professional societies for electrical engineers and industrial engineers, respectively. Activities of these chapters include invited lecturers, industrial plant tours, fundraising and student-mentor programs.
Five-year, Combined Bachelor's/Master's
The Engineering Department also offers a unique five-year combined Bachelor of Science and Master of Science in Electrical Engineering program. Undergraduate students begin graduate course work during their senior year and complete the master's degree in the fifth year.
In order to accomplish this, students must plan starting in their freshman year to allow for summer courses so that they can take six credit hours of graduate work each semester in their senior undergraduate year.
Accreditation
Our program in Electrical Engineering is accredited by the Engineering Accreditation Commission of ABET.
Learn more about the St. Mary's Electrical Engineering Program
Loading…