The work this Electrical Engineering and Physics major did as a St. Mary's student has become integral to his efforts to bring solar energy to a wider audience.
by Alex Z. Salinas (B.A. '11)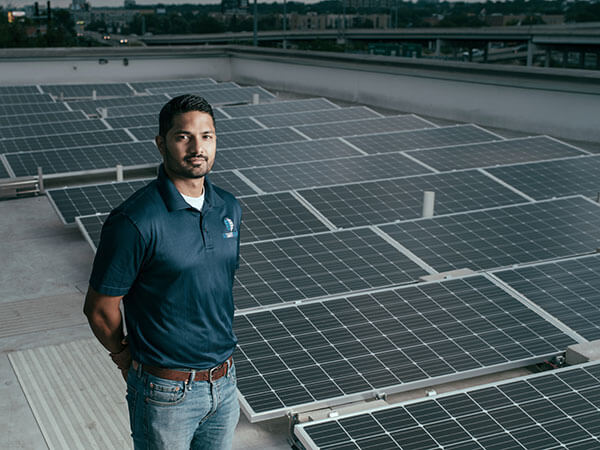 When Supratim Srinivasan (B.S. '11) was first considering where to attend college, it didn't occur to him that a Catholic university almost 9,000 miles away from his native India would factor into his decision — and forever brighten his future.
His connection to St. Mary's University was a bit happenstance. Brother Ed Violett, S.M., was in India doing outreach work for the Marianists in 2006 when he visited Srinivasan's hometown. Violett, impressed by Srinivasan, told him he should consider St. Mary's. Srinivasan looked up the University online, liked what he found and made his decision to attend.
When Srinivasan arrived on campus, he spent his first few weeks adjusting to a completely different environment.
"It was a big culture shock, a big change from India," he said.
Even doing laundry — well, figuring out how to pay for laundry — was a challenge.
"When I was living in Dougherty Hall, the first time I tried to pay for laundry was with a $100 bill," Srinivasan said. "Someone saw me — someone who would become a good friend — and he told me, 'No, man. Here are some quarters.'"
Slowly but surely, Srinivasan made more friends, tagging along with them to watch the University soccer games or to grab a bite to eat. He also had his nose in the books, studying diligently to keep up with the coursework as an Electrical Engineering and Physics double major.
Then in 2009, Professor of Electrical Engineering Bahman Rezaie, Ph.D., encouraged Srinivasan and a small team of students to find a way to make Fiesta Oyster Bake more environmentally friendly.
A light bulb went off in Srinivasan's mind.
After some thought, Srinivasan and his team built a mobile disaster-relief solar trailer — essentially, a pole-mounted, battery-operated machine that used nine solar panels to generate electrical power for about 35 booths at Oyster Bake that year.
For his efforts, Srinivasan won the 2009 San Antonio Green Building Award.
"That was definitely the 'aha' moment for me," he said.
After graduating in 2011, Srinivasan moved back to India to work for his father. However, by 2014, he was back in Texas working for a solar company in Austin. A year later, CPS Energy launched a program called SolarHostSA, in which San Antonians were incentivized to install solar panels on their homes in exchange for monthly rebates on future energy bills. Srinivasan was tapped to be the lead engineer for the project.
The project was a resounding success, and Srinivasan earned recognition for his technical contributions as an electrical engineer focusing on renewable energy in 2016, according to the Rivard Report.
That same year, Srinivasan helped co-found Go Smart Solar, a San Antonio-based company that helps residential and commercial customers in South and Central Texas convert to solar energy.
Srinivasan is Vice President of Engineering at Go Smart Solar. His mornings are usually spent in meetings and monitoring the engineering and coding side of things from his office, but by afternoon, he's often on rooftops, estimating how many solar panels a property would need or inspecting existing panels for maintenance.
A big reason why Srinivasan joined Go Smart Solar was to assist with San Antonio's "large-scale adoption of solar energy."
"San Antonio is poised to be one of the leading solar users in the country. The climate is right. With sunshine year-round and with aggressive rebate programs available, we are on mark to only keep growing," he said.
Srinivasan's goal is simple: "To educate people on renewable energy. That's what this is all about."
Srinivasan loves what he's doing and credits St. Mary's for helping him discover his passion — but also for teaching him how to work with and connect to other people.
"St. Mary's is a small school, so we felt like family," he said. "And that's how I like to treat people I'm around: like family."