by Alex Z. Salinas (B.A. '11)
It's the buzz on campus: St. Mary's University has a drone lab.
Professor of Electrical Engineering Bahman Rezaie, Ph.D., used his 2017-2018 sabbatical to recruit Engineering seniors to his cause — creating a drone lab from the ground up and helping the students complete their senior design projects in the process.
Now in Year Two, the projects that begin in the Richter Math-Engineering Center Annex continue to take flight.
Rezaie said the lab filled a need to train St. Mary's students in the field of unmanned aerial systems (UAS) — or drones — as companies are incorporating them in numerous applications.
"This lab establishes a foundation that has potential to emerge as the center of excellence in the area of UAS within the city of San Antonio."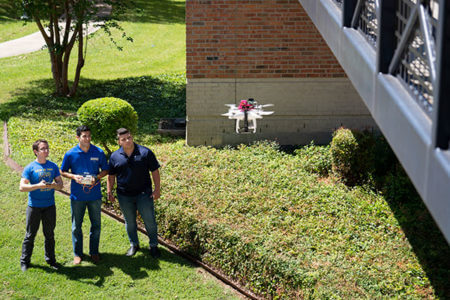 Among the first groups to benefit from the drone lab was Andres Cuellar (B.S. '19), Preston Allen (B.S. '19) and Nacer Ibaroudene (B.S. '19). For their senior engineering design project, they created a venture called Drone-Assisted Bridge Inspection.
The idea stemmed from Cuellar's summer internships with Union Pacific, during which he said the railroad sent drones instead of crewmen to inspect railways for damage.
"We repurposed that practice for a proof of concept to inspect underneath bridges," Cuellar said.
The project gelled when a friend of Allen's lent the team a drone and taught them how to pilot it.
Next, the group used a 3D printer to design a custom mount to affix a camera on top of the drone, then wired circuitry and created an Android mobile app so everything worked together. This yearlong endeavor required about 150 hours per member, Allen said — much of it completed in the drone lab, staffed by Engineering Technician Vernon Wier.
One of the locations the group tested their drone was a four-lane bridge about 100 feet above a creek in the city of Bandera.
"We were able to inspect underneath it in moderate wind conditions, all without disrupting traffic since we were standing below the bridge," Ibaroudene said.
Cuellar said this project could help "replace the traditional method of bridge inspection, which is by truck with a crane arm attachment that carries crewmembers underneath a bridge."
"In this way, bridge inspections could happen more frequently and be safer," he said.
When he enrolled at St. Mary's, Allen said he had a shallow idea of what it meant to be an engineer.
"But St. Mary's and its knowledgeable professors like Dr. Rezaie, who took time to get to know me, have prepared me for how to think like an engineer, and I'm confident to go out into the world," he said.