Enrique Salinas studied Biology before becoming a pediatric surgical nurse
By Jennifer R. Lloyd (M.B.A. '16)
St. Mary's University may be on the cusp of launching a new Nursing program, but the oldest Catholic university in the Southwest has long prepared students on their journey to nursing careers.
Enrique Salinas, a first-generation student originally from Eagle Pass, earned his Bachelor of Arts in Biology from St. Mary's in 2019. After participating in undergraduate research opportunities and shadowing a medical doctor, a single day spent shadowing a nurse made all the difference in his career decision.
"I loved nursing. I felt it was my calling," Salinas said. "Through nursing, I felt like I could help people."
"Through nursing, I felt like I could help people."

Enrique Salinas (B.A. '19)
After graduating, he earned a Bachelor of Science in Nursing from another university in San Antonio. Salinas is now halfway through earning his master's in Nursing while working as a pediatric surgical nurse at CHRISTUS Children's Hospital.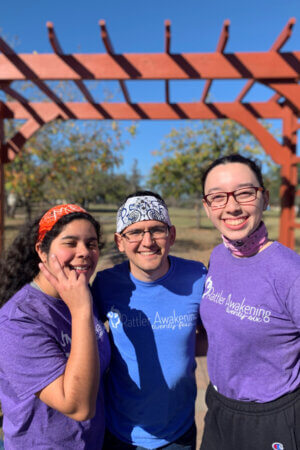 Because no one in his family had earned a bachelor's degree, Salinas felt his parents were on the journey of discovering higher education along with him, especially since neither had a background in his future major, Biology, nor Nursing.
But from the moment he stepped onto campus for a visit with his mother and sister, he knew he'd found his home — something his mom could tell just by how he looked on campus. Though his father was initially concerned about the price tag, St. Mary's provided the most generous financial aid of any school to which he'd applied.
"The deciding factor for me was the feel of the community and the fact that the classes were smaller in size," said Salinas, touting the University's student-faculty ratio of 11 to 1.
Once on campus, he became involved in faith-based activities and research. He took part in the Marianist Leadership Program, which provides students with educational and experiential opportunities focused on faith and leadership, and Rattler Awakening, a retreat that invites students to explore their faith lives in the context of a caring community. He even became an Admission tour guide.
Through a St. Mary's undergraduate research program, Salinas also studied the relationship between HIV and specific proteins in mice with a microbiologist at the University of Texas Health Science Center at San Antonio.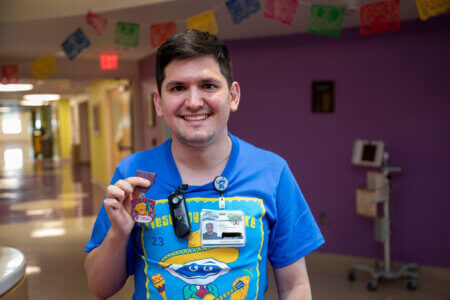 During his senior year at St. Mary's, the medical doctor Salinas was shadowing asked him to spend the day shadowing a nurse to get a feel for that career too.
"When I shadowed that nurse, I really got the opportunity to know the patient," Salinas said. "You're building that connection. Even if it's for a day, I got to know who I'm taking care of."
Nursing is something that has enabled Salinas to pay forward the medical care he received as a baby when a doctor paid for surgery to his ears that his family could not afford.
Flash forward to his work at CHRISTUS Children's Hospital. Salinas said he's fallen in love with pediatric nursing.
"I have so much fun working with the kiddos," he said. "They are sick, but they at least try to make the best of it."
By earning his master's degree, Salinas hopes someday to become a clinical director or clinical instructor to educate future nurses. Predictions show Texas will need 50,000 more nurses by 2033, including 10,000 new nurses in Central and South Texas, according to the Texas Department of Health Services.
"In nursing, you are always learning," he said. "You are never going to stop learning."
Salinas said students who enroll in the St. Mary's Nursing program, once it is approved by the Texas Board of Nursing and the Southern Association of Colleges and Schools Commission on Colleges (SACSCOC), will benefit from an open-door policy with their professors.
"One of the best things about St. Mary's is that the professors really care about you," he said.