Undergraduate Research Training Initiative for Student Enhancement
The Undergraduate Research Training Initiative for Student Enhancement (U-RISE) is a training program funded by the National Institutes of Health (NIH). It builds on the 40-year legacy of the Maximizing Access to Research Careers (MARC) Undergraduate Student Training in Academic Research (U*STAR) started by the late Jose Miguel Cimadevilla, Ph.D. in the early 1980s. This training program is for students from populations historically underrepresented in STEM with an earnest desire to obtain a Ph.D. and pursue a research career in biomedical or behavioral sciences.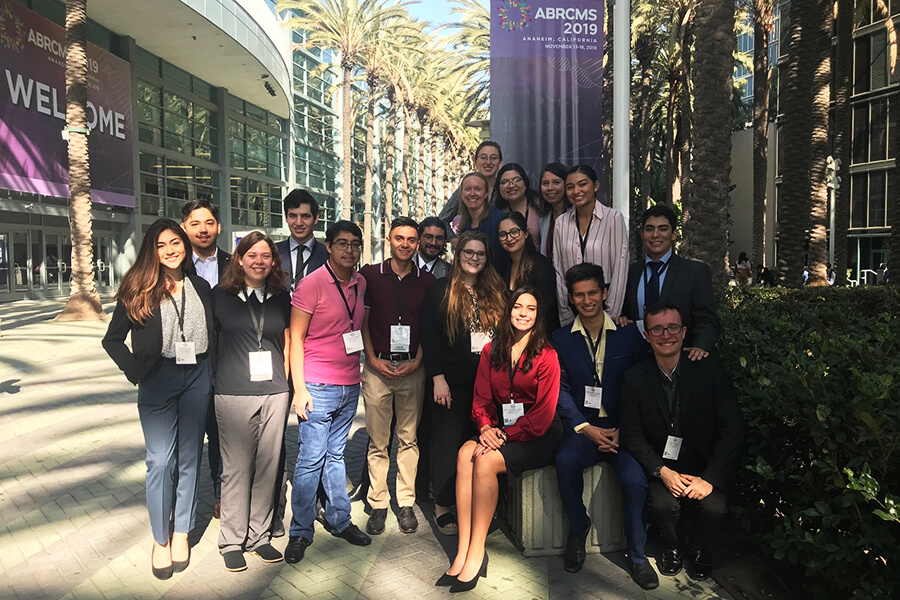 The goal of the program is to provide St. Mary's students with a two-year training program designed to give them the technical, operational, and professional skills necessary to transition into research-focused higher degree programs and the biomedical or behavioral sciences workforce. The overall aim is to diversify the nation's scientific workforce.
U-RISE provides students majoring in STEM or Behavioral Science disciplines opportunities to participate in biomedical research and work alongside faculty mentors in the biomedical sciences.
Undergraduate students participating in U-RISE are provided with academic, financial, research, and personal support to become competitive applicants for Ph.D. programs and build the skills that will help them succeed in a Ph.D. program.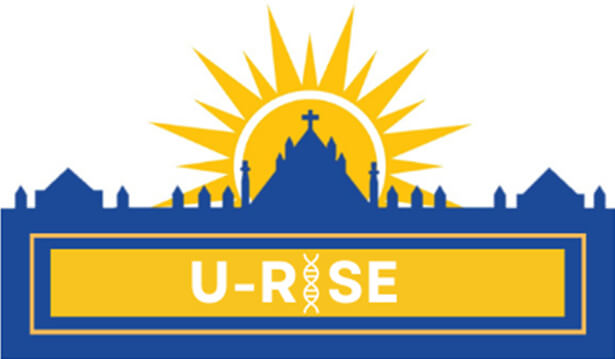 The program is year-round and offers students numerous benefits, including academic year and summer research experiences at designated laboratories, opportunity to present at the campus-wide and SET research symposia, attendance at a scientific conference (travel-related costs are provided), professional development including colloquiums, seminars, and workshops, as well as a stipend (about $1,200 per month) and tuition assistance ($16,000 per year).
The latter may affect a student's financial aid package.
Build the interest of St. Mary's students in research careers in the biomedical sciences and pursuing a Ph.D. degree in biomedical sciences through early outreach and interactions with local high schools.

Implement a research track curriculum designed to mentor, train and engage students in biomedical research (including community college transfer students) and increase the number of students interested in research careers.

Recruit and prepare a diverse pool of URISE scholars who complete their baccalaureate degree, and complete biomedical, research-focused higher degree programs (e.g., Ph.D. or M.D./Ph.D.) and pursue biomedical research careers

Eligibility and Requirements

Must be pursuing a course of study in Science, Engineering and Technology or Behavioral Science

Must have a minimum of 2 years remaining before graduation, and no more than 3 years remaining

Maintain a competitive GPA during training period

Be a U.S. Citizen or Legal Permanent Resident

Be genuinely interested in attending graduate school and obtaining a Ph.D. upon completion of your degree

Commit at least 10 hours per week to a research project during academic year and 10 weeks full time during the summer

Enroll in required U-RISE specific coursework, including research for credit
Let us know you're interested in being part of U-RISE by filling out the survey below.
Since 1983
Since 2000
# of trainees (completed MARC)
153 (138)
90 (75)
Obtained Ph.D. or M.D./Ph.D.
39.1%
49.2%
Ph.D. in progress
13.8%
28.8%
Overall persistence in Ph.D. (STEMM)
53% (96.1%**)
78% (96%)
Obtained M.D. or D.O.
12.3%
6.7%
Obtained* master's degree or equivalent
18.8%
26.7%
*Includes Masters in progress, individuals with more than one masters degree and individuals with or pursuing a Ph.D. **Excludes 10 trainees with unknown status.
MARC U*STAR participants attend summer programs and Ph.D. programs across the country, and at top-tier research institutions.
MARC U*STAR sponsored undergraduate research experiences for SET students enhanced academic success:
The 4-year graduation rate for research active students who participated in MARC or Pre-MARC* training was 87% compared to 52% for SET majors not associated with MARC or Pre-MARC training and 55% for all St. Mary's undergraduates during the same time.

Trainees who participated in both MARC and Pre-MARC training had an average 4-year graduation rate of 95% which was higher than MARC training alone (77%).

Pre-MARC training by itself had a 90% 4-year graduation rate, suggesting that an undergraduate research experience yields greater benefits the earlier a student starts research.

Additionally, participation in research had a positive impact on MARC trainee academic performance. MARC trainees had an average 3.63 cumulative GPA compared to 3.15 for SET majors.
* "Pre-MARC" students are freshmen or sophomores participating in MARC-sponsored research experiences.
U-RISE Biomedical Research Initiatives
Spring Research Fellowship

The Spring Research Fellowship (SRF) program provides freshmen and sophomores with a hands-on research experience and mentorship with a St. Mary's faculty member during the spring semester. Students who are selected will research for a minimum of 100 hours and will receive a stipend. Those who are interested in a Ph.D. are strongly encouraged to apply. In order to be eligible for the program, students:

Must have at least a 3.0 GPA.

Must be pursuing a course of study in Science, Engineering & Technology or Behavioral Science

Must be interested in research
Check back soon for more initiatives!