October 13, 2022
Panelists include Bexar County Sheriff, San Antonio ISD Police Chief, San Antonio Archbishop and St. Mary's Law Associate Dean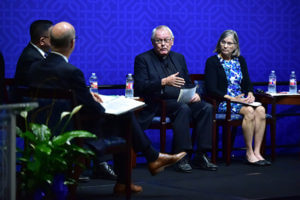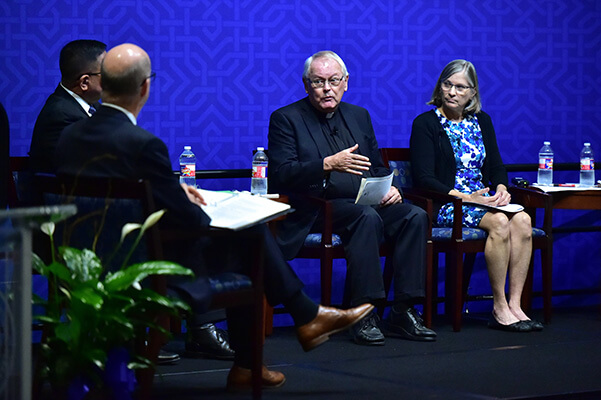 As part of St. Mary's University's commitment to stand with our Uvalde neighbors, Archbishop of San Antonio Gustavo García-Siller and panelists from educational and public safety organizations in San Antonio and Bexar County will share the work happening in our community to prevent violence and discuss the challenges we face moving forward during the Crossroads Symposium on Wednesday, Oct. 19.
The discussion will focus on a holistic, collaborative approach to preventing violence, with an emphasis on Catholic Social Teaching.
St. Mary's University and its Center for Catholic Studies will host the symposium on Wednesday, Oct. 19, at 3:30 p.m. in the University Center, Conference Room A. The event is free and open to the public.
The symposium, titled St. Mary's Stands with Uvalde: Catholic Social Teaching and Preventing Violence, will feature a panel including:
The Most Rev. Gustavo García-Siller, M.Sp.S., Archbishop of San Antonio
Javier Salazar, Sheriff, Bexar County
Johnny Reyes Jr., Chief of Police, San Antonio Independent School District
Ramona L. Lampley, J.D., Associate Dean for Research and Faculty Development, Professor of Law, St. Mary's University School of Law
"We hope this session is just one stage of an ongoing conversation as our community discerns next steps and students step into their roles making necessary change," said Allison L. Gray, Ph.D., Interim Beirne Director for the Center for Catholic Studies.
More about the Crossroads Symposium
The Crossroads Symposium is a free, annual lecture series featuring individuals who have shaped the Catholic Intellectual Tradition — a tradition at the heart of the educational enterprises at St. Mary's. Speakers from various faith traditions are invited to speak to the University and San Antonio community about topics such as Catholicism in a changing world, religion in a pluralistic society and faith in areas such as art and science.
The 2022 Crossroads Symposium has been made possible by an endowment established in memory of Shu-Chi Lin by his widow, Mrs. Chang Le-Chiao Lin, and their son, Vincent Lin, Ph.D., a St. Mary's University alumnus and former faculty member.