April 5, 2022
New York-based musician Patrick Cornelius to perform Friday, April 8
Cool cats and jazz enthusiasts are invited to attend the St. Mary's 2022 Fiesta Jazz Festival starting Friday, April 8. During the two-day festival, attendees can experience live music from some of the best national, local and school-aged jazz artists.
The free, public event begins at 1 p.m., Friday, April 8, in Pecan Grove on the St. Mary's University Campus with the 2022 Fiesta Jazz Festival University Invitational. The invitational includes performances by the San Antonio College Jazz Combo, the St. Mary's Jazz Orchestra and the St. Mary's University Jazz Combo. At 7 p.m., the 2022 Fiesta World Class Jazz Concert will start with the Joe Caploe Quartet, followed by the Patrick Cornelius Quartet at 8:30 p.m.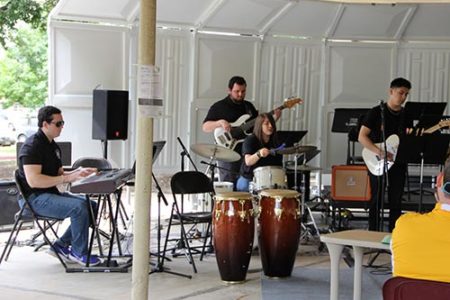 A New York-based saxophonist, flautist and composer, Cornelius attended middle and high school in San Antonio before attending Berklee College of Music and the Manhattan School of Music. He also earned an artist diploma from The Juilliard School, also in New York.
John M. Rankin, D.M.A., Director of Jazz Studies, said the number of participants for Saturday's event is expected to be so large two venues are needed to host everyone.
At noon on Saturday, Cornelius is scheduled to have a Jazz Clinic in the University Center, Conference Room A, with the students who are performing.
Saturday's live music performances allow schools from Texas and other states to participate and perform for criticism before a panel of jazz clinicians. Trophies and awards will be presented in various categories.
1 p.m., San Antonio College Faculty Jazz Combo plus 1
2:15 p.m., United States Air Force Band of the West Protocol Combo
4 p.m., University of Texas at San Antonio Jazz Ensemble
5 p.m., St. Mary's University Jazz Orchestra
6 p.m., St. Mary's University Jazz Combo
7 p.m., Joe Caploe Quartet
8:30 p.m., Patrick Cornelius Quartet
University Center, Conference Room A
8 a.m., Alamo Heights High School (5A)
8:25 a.m., Southwest High School (5A)
8:50 a.m., C.C. Winn High School (5A)
9:15 a.m. Medina Valley High School (5A)
9:40 a.m., O'Connor High School II (5A)
10:05 a.m., Wagner High School II (5A)
10:30 a.m., Jefferson High School (5A)
10:55 a.m., Brandeis High School Combo (6A)
Noon, Jazz Clinic with Patrick Cornelius
1:10 p.m., Wagner High School I (6A)
1:35 p.m., O'Connor High School I (6A)
2 p.m., Brandeis High School (6A)
2:25 p.m., Churchill High School (6A)
2:50 p.m., Hays High School (6A)
3:15 p.m., New Braunfels High School (6A)
3:40 p.m., Hutto High School (6A)
4:05 p.m., Belton High School (6A)
4:30 p.m., MacArthur High School (6A)
5:15 p.m., Jazz Orchestra of San Antonio
6 p.m., Awards Ceremony
10 a.m., San Antonio Christian High School (3A)
10:25 a.m., Jourdanton High School (3A)
10:50 a.m., Richard King High School (4A)
11:15 a.m., Hargrave High School (4A)
Noon, Jazz Clinic with Patrick Cornelius
2:05 p.m., Bradley Middle School II (2C)
2:30 p.m., Kirby Middle School (2C)
2:55 p.m., Scobee Middle School (2C)
3:20 p.m., Whittier Middle School (2C)
3:45 p.m., Bradley Middle School (3C)