As Dean of the Greehey School of Business and Professor of Management, Ortiz-Walters earned her undergraduate degree in Chemistry from the University of Connecticut. While working as a chemist, she heard the best way to move into a management position was by obtaining a Master of Business Administration.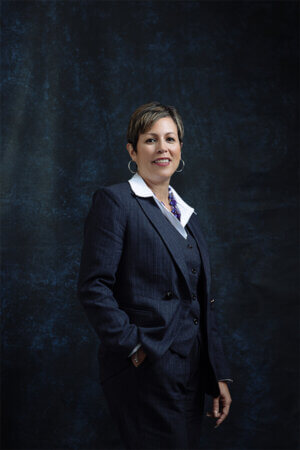 "A lot of folks were getting MBAs, and back then, I didn't know what an MBA was," she said. "I'm competitive, so I thought, 'If they're getting an MBA, I need to get
an MBA.'"
After attaining her MBA in Technology Management, she earned her doctorate in Management from the University of Connecticut.
As a first-generation college student, Ortiz-Walters, who grew up in the inner city of Bridgeport, Connecticut, said her family was not well-off and there were nights she went to bed hungry.
Avoiding financial challenges in the future fueled her desire for education — noting her mother and father did not complete high school.
As a high schooler preparing for college, Ortiz-Walters felt isolated and even declined a full scholarship from Dartmouth because she didn't see others like her on campus.
Since joining St. Mary's University as Dean in 2021, she said her mission is to find ways to be inclusive by fostering a program that welcomes students from all backgrounds.
"There's this comfort that comes with a student walking over to you, whose skin tone is like yours and whose hair is like yours," Ortiz-Walters said.
Ortiz-Walters also said she was fortunate to have female mentors throughout her career. As dean, she said she mentors female students who exhibit leadership qualities and encourages male students to be aware of the challenges their female counterparts might face in the workplace. She also said how important parental support is to student development.
"There's this comfort that comes with a student walking over to you, whose skin tone is like yours and whose hair is like yours."

Rowena Ortiz-Walters
During the 2021 Business Week Experience, a female student was scheduled to receive the best student in Marketing award. The student's mother lived in Peru and could not afford to travel to the ceremony.
Wanting to have the student's mother there, Ortiz-Walters said they were able to find funds to bring the mother to San Antonio to celebrate with her daughter as a way of recognizing how "her mom was invested in her life."
As a member of the all-female dean leadership at St. Mary's University, Ortiz-Walters said the collaboration between the schools has been supportive and encouraging.
"The whole concept of what a leader is, who a leader is and the respect that you give leaders should be the same," she said.