If you've been on campus at the St. Mary's University School of Law in the last three years, you've likely heard the name or been in the gravitational pull of Cody Huffman (J.D. '23). Huffman commands the room with his 6-foot-6-inch frame, kind eyes and soft smile.
Just weeks before crossing the stage at the School of Law Commencement in May, he was overwhelmed with emotion, having learned that his mother, Monica Melissa Patterson, who is in prison, would be able to watch his law school graduation via livestream.
Patterson is serving a life sentence for a capital murder case that Huffman maintains is a wrongful conviction.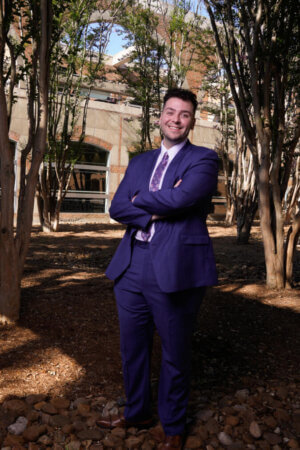 School of Law Dean Patricia Roberts, J.D., advocated for Huffman's mom to view his graduation via livestream by contacting the Texas Department of Criminal Justice, a request they approved.
"To see her do that for me was a big win," said Huffman, who is from San Juan in the Rio Grande Valley. "I don't care who gets what award. I don't care if I never get another recognition. This is the winning in law school that beats everything."
Huffman started law school mid-pandemic in Fall 2020 and has made his mom's case the driving force behind his time in law school.
"I don't think I initially chose St. Mary's. St. Mary's chose me," Huffman said. "When I applied to different schools, I was, you know, gay, Latino, mother is incarcerated — I'm like the poster child for social justice. St. Mary's was the school that saw that and said, 'Okay, we're gonna take a chance on you.'"
Initially, Huffman said he had no intention of getting involved with the campus community.
"I was like, I'm just gonna put my nose to the ground, do what I have to do get in and out of here," Huffman said. "However, I've never been that person. I had to take matters into my own hands to shed light on things that people don't necessarily think about all the time. And part of that is a Wrongful Convictions Project."
Wrongful convictions work
Huffman is the co-founder and coordinator of the Wrongful Conviction Series, an event series of the Pro Bono Program, held in collaboration with registered student organizations and other community organizations. Throughout the year, the series create awareness about wrongful convictions through events on campus. For example, on a warm day in Fall 2022, students from the Wrongful Convictions project simulated a prison cell in the middle of the Law Courtyard to help students understand the dangerous temperatures in some Texas prisons. The temperature inside the mock cell reached over 95 degrees, only a fraction of how hot it can get during Texas summers.
"Where he goes, others will follow — and fortunately for all of us, Cody goes in the direction of expanding justice."

Greg Zlotnick, J.D.
Overseeing this event was Greg Zlotnick, J.D., who serves as Visiting Clinical Assistant Professor and Supervising Attorney for the Housing Rights Project at St. Mary's Law. Zlotnick said only Huffman could have him unloading and constructing a mock prison cell outside of the Ernest A. Raba law building on a Tuesday.
"Such is Cody's magnetism in service of justice," Zlotnick said. "For if there are few people who could get me to lift plywood panels under a rising sun, there are even fewer students I have worked with at St. Mary's Law who so deeply embody our school's commitment to service, justice and peace as Cody Huffman. His commitment to the common good and equal justice under the law make him an exemplar of our school's charism."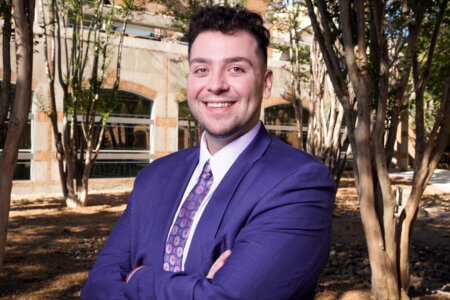 Off campus, Huffman's social justice work continued. Huffman and his classmate, Karen Muñoz (J.D. '22), both from the Rio Grande Valley, had been familiar with the case of Melissa Lucio, a Valley native who had been convicted of murder. The case garnered national attention through the Hulu documentary, The State of Texas vs. Melissa, which contended she had been wrongfully convicted.
Huffman and Muñoz attended a rally in support of staying Lucio's execution, which led to them becoming community outreach leaders for the Death Penalty Action Group, which opposes execution.
Huffman said a defining moment in his academic career came when he learned that Lucio had earned a stay of execution.
"A big part of that was knowing that your voice matters, regardless of whatever aspect you're in," Huffman said. "I wasn't on a legal team. I wasn't a family member. Even if it wasn't in the courtroom, it still meant something."
Huffman had a decorated J.D. student career. His awards included the St. Mary's University School of Law Dean's Award, Pro Bono Public Service Certificate, Marianist Service to Community Award, as well as receiving a Hispanic Law Alumni Association Bar grant; and the San Antonio Criminal Defense Lawyer's Association scholarship.
While earning his J.D., Huffman took his campus involvement even further, working as a student attorney in the Criminal Justice Clinic, staff writer for The Scholar: St. Mary's Law Review on Race and Social Justice, Vol. 25, community outreach chair for the Hispanic Law Student Association and member of the National Dispute Resolution Team.
Pending his bar passage, Huffman plans to work with criminal defense attorney Dayna L. Jones (J.D. '07). Huffman said his love for St. Mary's runs deep, with plans to become an active alumnus and possibly a professor someday.
Zlotnick said Cody is bound for leadership in the bar and in our state.
"Where he goes, others will follow — and fortunately for all of us, Cody goes in the direction of expanding justice," Zlotnick said.