Emmanuel Ewuzie applies Mechanical Engineering major to real-life scenarios
Just about everyone gets asked this question in childhood: What do you want to be when you grow up?
When Emmanuel Ewuzie was asked that question growing up in San Antonio, his response was: astronaut, doctor, NBA player and construction worker.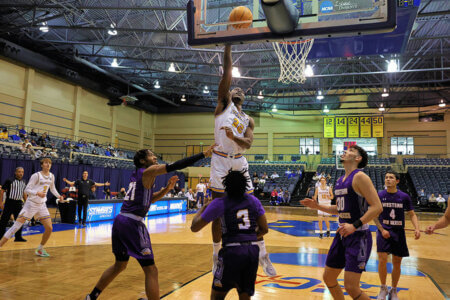 "My mom always tells that story to her friends about how I wanted to be everything, and I think it's funny," Ewuzie said. "But when I realized I couldn't do all of them, there was one thing that stuck with me. And that was my fascination for outer space."
Growing up, Ewuzie said he was always captivated by space and rockets, he used to draw flying cars and told his mom he would create the first model someday.
While he hasn't developed a flying car yet, Ewuzie's fascination with space never left, and he has plans to pursue a Ph.D. in Aerospace Engineering.
A scholar in the classroom
Ewuzie is described as a leader on the hardwood by Associate Head Men's Basketball Coach Bubba Meyer (B.A. '01) and a scholar in the classroom by Juan Ocampo, Ph.D., Associate Professor of Mechanical Engineering.
Ewuzie said the best part about the Mechanical Engineering program is learning how his studies apply to real-life scenarios. Job prospects for mechanical engineers are expected to grow 2% from 2021 to 2031, resulting in 6,400 more jobs over the next decade, according to the U.S Bureau of Labor Statistics.
One real-life scenario is the senior design project that his team is working on with the New Braunfels Smokehouse. Ewuzie said Ocampo presented several options at the beginning of the year — and they chose the Smokehouse because the idea of improving their production line was intriguing — but also because they could learn about commercial product options.
He added their goal is to improve efficiency and production so the Smokehouse can grow in business and clientele.
But Ewuzie is not stopping with smoked meats.
"This job field allows people to save lives, and that's something I want to do," Ewuzie said. "One of my ideas is to create homeless shelters and programs because it helps people now and in the future."
With an 11-1 student-to-faculty ratio and close-knit community atmosphere, Ewuzie said the University atmosphere has contributed to his success at St. Mary's.
Ocampo echoed Ewuzie's message about the program and school, adding that Ewuzie was a perfect example of what Ocampo hopes his students achieve.
"Emmanuel has big dreams, and I'm confident he will accomplish them because he always puts in the extra work," Ocampo said. "If a student's goal is to change lives or to make the world better by creating stuff, then consider an Engineering program. Many people think the program is too difficult because of the math and science aspects, but I wasn't always the best at those subjects either. I took tutoring during my undergrad. But once you get past those courses, then the fun happens."
Students have a variety of fields to explore in the program, such as aerospace engineering, thermal, HVAC, fire protection and reverse engineering. Other features of the St. Mary's program include research programs, grants and internships.
"This job field allows people to save lives, and that's something I want to do."

Emmanuel Ewuzie, Mechanical Engineering senior
Ewuzie was one of several students who recently participated in a research program at the University of Texas at San Antonio sponsored by the National Nuclear Security Administration, or NNSA, which Ocampo urged him to attend.
The program enables students to form a network of researchers, build soft skills and learn about national research programs and post-graduate options.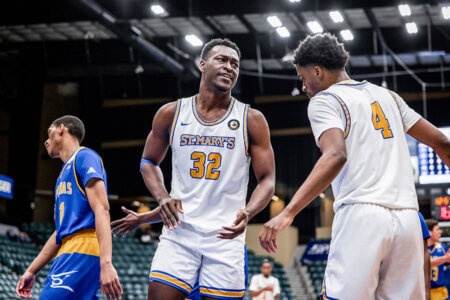 When talking about Ewuzie, Meyer uses the words "leader," "unique" and "hard worker" to describe him.
Meyer, a former student-athlete, said Ewuzie is a self-starter who never slacks off.
"I always joke around with him because he talks about building rocketships with me, and I tell him that I just want a ticket on the shuttle when he's working for NASA," Meyer said. "Whatever his future is, he will succeed."
But wherever Ewuzie lands, he wants to always be helping people because it gives him a sense of fulfillment. That's what he wants his legacy to be about.
"My parents always gave back their whole lives, so I learned at a young age to always try to help others," Ewuzie said. "Whether they gave back to our family in Nigeria or someone on the streets, I always saw them lend a helping hand, and that stuck with me."