When Ian Wells (B.S. '22) began his journey at St. Mary's University, he was just 14 years old.
A member of the Prefreshman Engineering Program (PREP), a pre-college program for aspiring science, engineering, technology and math professionals, Wells had the opportunity to visit St. Mary's for seven weeks of summer courses in physics, engineering and technical writing.
He didn't know it at the time, but that visit would change the course of his life.
"I attended a guest lecture by Professor Rafael Moras, who helps lead the Industrial Engineering Program, and that's actually the reason I decided to attend St. Mary's," said Wells, who earned his bachelor's from St. Mary's in Industrial Engineering last year and began working on a Master of Science in Software Engineering. "Professor Moras was so passionate about his career and basically opened my eyes to the field of engineering. Ever since then, I've been hooked."
Wells has a "multitude of interests" ranging from industrial to mechanical to software engineering, all of which appeal to him due to their ability to improve processes and make peoples' lives easier.
"Even when I finish my graduate program, I hope to help high school and college students in developing their career paths, just like how the professors at St. Mary's had a profound impact on how I developed as a person and a professional."

Ian Wells
Wells had the opportunity to explore the real-world impact of his interests through his undergraduate Senior Capstone Project, for which he partnered with the San Antonio Food Bank to develop a software application to be used by the delivery drivers who bring goods to the facility.
"Since the Food Bank is a nonprofit, they don't really have access to some of the tools that larger companies use to improve their operating processes," Wells said. "We were able to create a software system that can be implemented to improve space organization and optimization."
For Wells, this hands-on experience was invaluable. Being able to intimately understand warehouse operations prepared him for his current role as a Manager in the Reliability and Maintenance Department at Amazon, where he oversees operations at a number of warehouses — a job he juggles along with completing his master's.
Mastering software engineering
He's cultivated the ambition to achieve a Master of Science in Software Engineering since Professor of Software Engineering Ozgur Aktunc, Ph.D., who directed the St. Mary's PREP Program, told Wells about the degree during his first visit to campus as a high school student.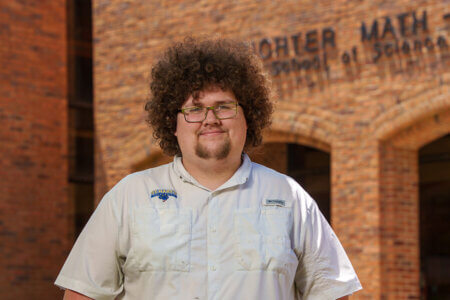 Wells' professors have recognized in him both his academic curiosity and his leadership qualities. For instance, when the COVID-19 pandemic hit in 2020, he worked with the Engineering Department to provide local hospitals with face masks using 3D printing.
"I've known Ian since he was a high school freshman. In every class, he showed great initiative," Aktunc said. "I was glad to see that his passion for 3D printing, which he was involved in for many years, was put to great use. I still have some of the artifacts he printed using the 3D printer and brought me over the years."
Wells has also volunteered at the St. Mary's Fiesta Oyster Bake to oversee the planning and procurement of goods. And in 2021, he led his undergraduate team to be selected for the national Association for Supply Chain Management Case Competition.
"I've always had a passion for making people's lives easier in any way that I can," Wells said. "Even when I finish my graduate program, I hope to help high school and college students in developing their career paths, just like how the professors at St. Mary's had a profound impact on how I developed as a person and a professional."