What does it really mean to live a life worth living? What is the ultimate meaning of life?
These types of questions have long lingered for Trivett Wingo (M.A. '20), who, in his search for meaning and purpose, has lived many lives — as a drummer for a world-touring band, as an accountant and now as a St. Mary's University graduate seeking to fulfill his knowledge quest.
"Theology became for me a vehicle for answering those existential questions or concerns," said Wingo, who earned a master's in Theology.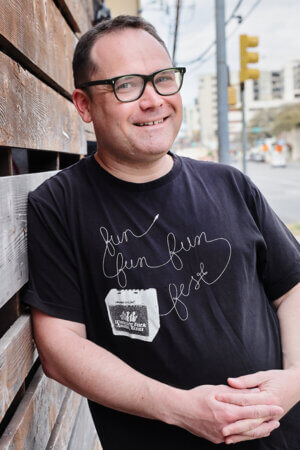 These questions first occurred to Wingo while touring and recording with The Sword, an Austin-based metal band with albums that hit the U.S. Billboard charts and singles featured in Guitar Hero, a 2000s video game allowing gamers to play licensed rock songs on a guitar-shaped controller.
The band's fame came unexpectedly, said Wingo, who described the experience as "succeeding by accident" almost overnight.
"I didn't put any effort into becoming a professional. I put effort into playing music and being myself," said Wingo, who played drums for The Sword from 2003 to 2010.
Of living his childhood dreams of appearing on MTV and selling albums nationally, "there was a feeling of having realized myself, or being actualized," he said, adding, "It was the most meaningful thing I had ever done, and it was the most alive I'd ever felt."
In 2010, after years of global touring, Wingo began experiencing a "profound crisis of meaning" and left the band.
Following his departure, he lost both parents and his marriage ended. He returned to school, earning his master's in Accounting from the University of Virginia, and worked at an artist management firm in Charlottesville in his home state of Virginia.
Wingo eventually made his way back to Austin where a conversation with his parish priest prompted him to take a Theology course at St. Mary's. Inspired, he enrolled in the distance-learning Theology graduate program and recalled transformative conversations about existential questions in a systematics course taught by William Buhrman, Ph.D., Interim Provost and Vice President of Academic Affairs and Associate Professor of Theology.
Now that he's graduated, Wingo plans to hit the books once more, ideally in the Clinical Mental Health Counseling program at St. Mary's.
"It was the most meaningful thing I had ever done, and it was the most alive I'd ever felt."

Trivett Wingo (M.A. '20)
All the while, he's kept quiet about his former life as a metal and rock drummer.
Allison Gray, Ph.D., Associate Professor of Theology and Greek, and Director of the Graduate Theology Program, wasn't aware of his musical background, but was also not surprised to hear that he had a "hidden talent."
"He really is, in a lot of ways, forward-thinking," Gray said. "He's always thinking 'What is the next step?' He is really dedicated and throws himself into things and tries to master them."
Gray believes his talents lie in helping others engage in conversation or questions they may not be comfortable with in a parish community or among students with varying goals and viewpoints.
Beyond learning how to formulate questions, conduct research and organize thoughts, Wingo believes one of the most valuable takeaways from the Theology program was his becoming a more tolerant, loving, rational and compassionate person.
"I'm a little more at peace," he said as he continues his search for meaning.