by Melanie Skaggs (M.A. '02)
Roberto Ruiz (M.Jur. '17, M.S. '19) dreamed of earning his master's degree in Industrial Organizational Psychology (IO) from St. Mary's University. He made many attempts to get into the program, but after 13 years, he felt the possibility slipping away. A low undergraduate GPA from the University of Texas El Paso (UTEP) and the toll from working three part-time jobs wore on Ruiz' future aspirations.
Ruiz finished his undergraduate degree in Psychology from UTEP in 1999, but his relocation to San Antonio did not happen quickly. Instead, he started his professional career working for three years as a probation officer in El Paso. He relocated to San Antonio in 2002.
"I put the carriage before the horse. I had not even applied to St. Mary's University and had no idea if they would accept me; I just moved," Ruiz recalled.
After his move, the Bexar County Community Supervision and Corrections Department quickly hired Ruiz as a probation officer at the Adult Drug Court and DWI Court, where he thrived. Once getting settled, he hoped to be accepted into St. Mary's graduate IO program.
"I made three attempts and kept being told no," Ruiz said.
Pivoting, he tried to study criminal justice policy at the University of Texas San Antonio (UTSA) but was denied twice. The University of the Incarnate Word would only accept Ruiz provisionally as his low GPA from UTEP continued to hold him back.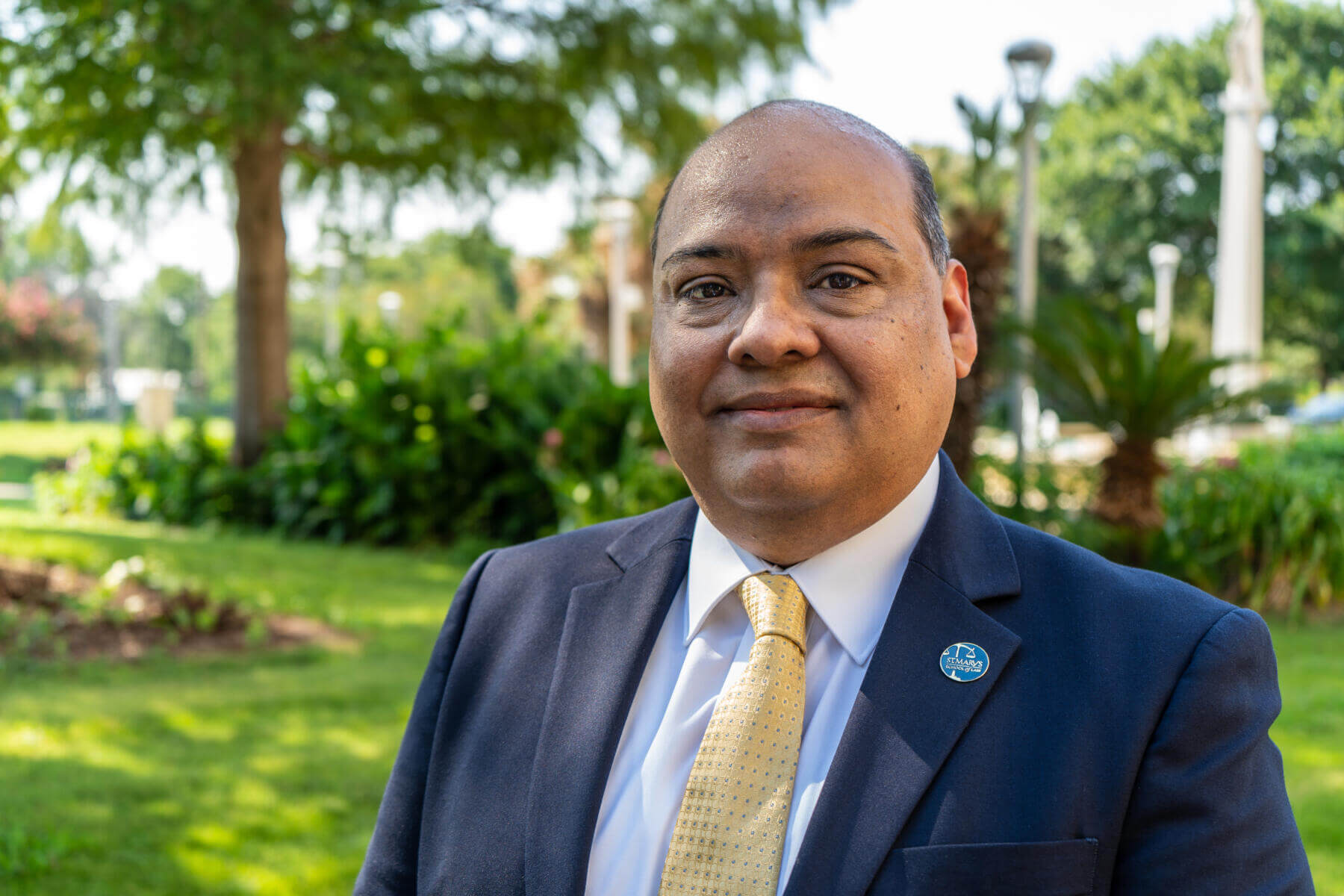 "My professional career was impressive, but everyone declined me because of my academic record," Ruiz said. On the verge of giving up in Fall 2015, Ruiz noticed something that changed his life.
"I saw a billboard while driving to work promoting the first Master of Jurisprudence (M.Jur.) degree at the St. Mary's School of Law," Ruiz said. "I did some research and was attracted to the degree. I applied with the hope to start the following semester."
After reviewing his packet, the Admissions team asked Ruiz about his GPA — and his heart sank.
"When did you graduate, Mr. Ruiz?" asked the inaugural program director Colin Marks, J.D., now Associate Dean for Innovative Programs and Strategic Partnerships.
Marks continued, "Nothing that old is a good predictor of how you will perform now. Tell me what you have been doing since your graduation."
Ruiz was shocked and relieved.
"Professor Marks was the first person who believed in me, when I did not believe in myself," Ruiz said. "He was an immediate advocate."
All the professors in the M.Jur. program were supporters of my success. If I put the work in, they invested time to help me."

Roberto Ruiz
"This trip exposed me to the authentic culture of Mexico, native artists and the realization that we are all advocates with talents and knowledge that we gain from our work, education or experience," marveled Ruiz.
"Roberto (Ruiz) has the ability and willingness to respect differences and appreciate similarities. It is an attitude and outlook that enriches and honors the dignity of all human beings," Rosas said.
After graduating in 2017 with a M.Jur., Ruiz still wanted to pursue a master's in IO Psychology. He applied and was finally accepted into the program at St. Mary's that had originally lured him over 500 miles to San Antonio.
Chair and Associate Professor for IO Psychology Cody Cox called Ruiz an "impressive student."
"When he encounters adversity, he calmly works through the issue and always perseveres," Cox said. "I admire his work ethic and his unwavering commitment to learning."
"Both fields of study work together and allow me to advocate," Ruiz said. "Having these advanced degrees enhances my ability to negotiate, mediate and advocate for services or causes that are needed within my field of work. I get to witness the transformation of people victimized by their circumstances. Through advocacy, we can take a therapeutic approach, rather than a punitive approach to help them transform their lives."
"I am so grateful to St. Mary's University for giving me these opportunities," he said.
Now, armed with two master's degrees, Ruiz has found the confidence to pursue a Ph.D. in Industrial and Organizational Psychology online through Adler University.
"I never thought I would pursue a Ph.D. in psychology. It took the professors at St. Mary's believing in me when I did not even believe in myself to be successful."

Roberto Ruiz