Degree
Master of Science

https://www.stmarytx.edu/academics/programs/master-industrial-organizational-psychology/

https://www.stmarytx.edu/wp-content/uploads/2016/07/industrial-organizational-psychology-1920×450.jpg
What is Industrial / Organizational Psychology?
Industrial / Organizational Psychologists study human behavior in organizations and the workplace.
They determine principles of human behavior as individuals, in groups and in organizations, and then apply the findings to solving problems at work such as:
Performance measurement
Workplace motivation
Organizational development
Recruitment and selection
I/O Psychologists quantify human behavior and industrial activities including the areas of personnel selection and testing, job analysis and evaluation, performance appraisal, organizational behavior, training systems, and survey technology.

Students who complete the program are prepared to develop and use tests for selection of employees, conduct job analysis and evaluation, identify training and development needs of organizations and groups, evaluate the effectiveness of organizational interventions, facilitate organizational change and development, and maximize the effectiveness and quality of work life for individuals and work groups in organizational settings.

Many of our graduates have gone on to work at companies such as USAA, Valero, Andeaver, CST Brands, Zachary Group, Operational Technologies, Booz Allen, SWRI, and Zappos while others have furthered their education by pursuing a Ph.D. in industrial / organizational psychology at other universities.

What I/O Psychologists Do
Degree Plan
Students have several options:
In addition to regular course examinations, each student must pass a general comprehensive examination before the degree is conferred. Students are required to demonstrate breadth of knowledge in the discipline, depth in specific areas, and the ability to integrate what has been learned. Additional detail about the comprehensive exam and examination policies in each program will be provided to students in the semester when they are eligible to take the exam.

Students must pass a written comprehensive examination, which is offered twice a year, in the fall and the spring semester. Fall testing dates are usually scheduled for the week immediately after undergraduate mid-semester break. Spring testing dates are usually scheduled for the week immediately after Spring Break. No examinations are offered in summer sessions.

To be eligible to sit for the examination, students must be in good academic standing (i.e., not on academic probation or suspension), been admitted to candidacy, completed all prerequisites, have a cumulative grade point average of 3.0 or higher, have a "B-" or better in all required courses, and have at least a "B-" average in all core courses at the mid-term grading period in that semester.

During the semester in which a student schedules his or her comprehensive examination, a final core course may be taken and the student is responsible for all material covered in the course. All other core courses must have been completed in prior semesters. Program requirements for practicum, internship, and elective courses may occur after a student takes his or her comprehensive examination if permitted by the respective Graduate Program Director.

Comprehensive Exam
The 225 hour practicum experience is a very important component to the degree program. Students will have the opportunity to use the skills that they have developed in their degree program at their placement site(s). Practicum placements are made in collaboration with the Graduate Program Director and the student candidate.

Placements vary depending on student interests and aptitudes, available supervision, student demand, and programmatic factors that may be out of the immediate control of the University.

Students in our program are encouraged to cultivate practicum placements in the community provided these are approved in advance by the Graduate Program Director. Additional, program specific, practicum requirements may be obtained from the Graduate Program Director.

In the past, students have completed their practicum at organizations such as: Valero, Optech Inc., City Public Service (CPS), Professional Service Industries, Inc. (PSI), United Services Automobile Association (USAA), and many others.

Practicum
Students can select to either participate in a thesis or non-thesis option to graduate. For many students, the primary reason to pursue a thesis is to obtain an independent research and writing experience prior to entry into a doctoral program. For some, it is a means of acquiring greater depth of knowledge in a subject of interest, or preparation for employment in a specialized field.

Although reasons for writing a thesis vary, the purpose of the research is to discover new knowledge or enhance existing knowledge in the field of interest. A project that helps to solve a practical problem may also be acceptable. The thesis is a cumulative experience, which provides a record for student achievement in the program.

The technical and grammatical quality of a thesis is an index of the professional abilities of the student, the supervising professor, and committee members. Moreover, it is representative of the quality of graduate education of the University.

Thesis Option
See the full degree plan:
Psychology Courses
For a full list of course names and descriptions, please see the catalog: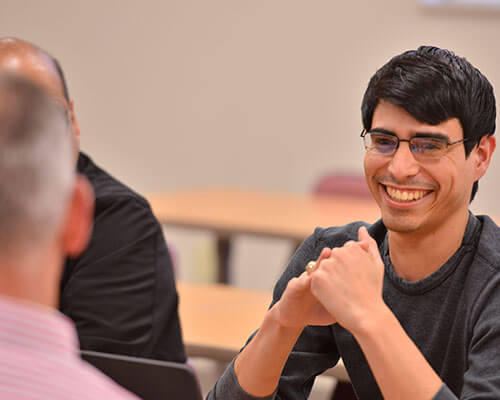 Program Ranking
St. Mary's program ranks among the top in the nation out of all master's programs affiliated with the Society for Industrial and Organizational Psychology (SIOP).
Our program ranks among the top 20 list for several dimensions. St. Mary's program scores higher overall than any other masters-level program evaluated.
St. Mary's SIOP Overall Ranking by Category
5th – Applied Experiences for Students
15th – Curriculum
11th – Overall
What makes this Program Unique?
Mentors: All first-year students are paired with an alumni mentor who can share their experiences in our program. In all of our required courses, students are assigned projects (often with our external partners) which enable them to utilize the scientific knowledge learned in class through practical application in the community.
Small Class Size: Smaller classes allow for more personalized attention and feedback.
Scientist-Practitioner Model: We place equal emphasis on scientific study and practical application. Using the scientist-practitioner model in our Industrial / Organizational graduate program allows for a well-rounded, competitive knowledge of the field upon graduation.
I/O Psychology Mentor Program
Finding a mentor to provide graduate students with advice, support and guidance can be instrumental to long-term career success.
The Industrial / Organizational Psychology graduate program offers an alumni mentor program to enhance the professional development of our graduate students. The program matches first-year graduate students with Industrial / Organizational alumni who are working in the San Antonio area to develop an exchange of information. Mentors provide students with advice and guidance while our mentees can share current research and emerging trends with their mentors.
Candidacy
Students who expect to earn a degree must be admitted to candidacy for the degree. Candidacy indicates the student has demonstrated a general knowledge of psychology and the ability to do graduate work. In addition to completing the application for candidacy, to be eligible, a student must have:
Completed all prerequisites with a minimum grade of C;
Completed 12 graduate credit hours in their degree program;
Maintained a B- average in all coursework in their degree program;
Earned a minimum grade of B- in all required (non-elective) courses;
Acceptable GRE scores on file in the Graduate Office;
Successful completion of assessment center and development plan; and
Satisfied other specified departmental requirements.
Students will not be permitted to acquire more than 19 graduate credit hours without satisfying the requirements for candidacy.
Financial Aid
St. Mary's offers various scholarships, grants and assistantships to graduate students. Military, their dependents and Department of Defense employees may be eligible for a tuition discount.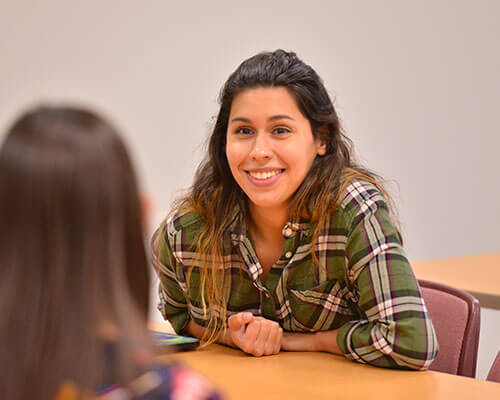 Learn more about the Industrial / Organizational Psychology Degree