February 10, 2021
Brig. Gen. Laura L. Lenderman will speak virtually on Thursday, Feb. 18
U.S. Air Force Brig. Gen. Laura L. Lenderman will continue the 2020-2021 Forum on Entrepreneurship Series on Thursday, Feb. 18, by focusing on the entrepreneurial spirit of the Air Force, innovative technology, and her leadership philosophy and team building despite the challenges brought about by the pandemic.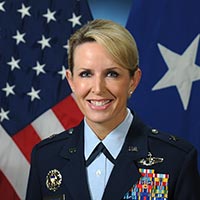 Lenderman is the Director of Plans, Programs and Requirements, Headquarters Air Education and Training Command (AETC) at Joint Base San Antonio-Randolph. The Meadows Center for Entrepreneurial Studies at St. Mary's University will host the discussion via Zoom from 8 to 9 a.m. Thursday, Feb. 18.
"We are very pleased to have Brig. Gen. Laura Lenderman as a Forum on Entrepreneurship speaker," said Stephanie Ward, Ph.D., Interim Dean of the Greehey School of Business and Professor of Management. "Her leadership expertise will be invaluable for students and our business partners. We look forward to learning from her."
Lenderman is responsible for planning and programming a $7.6 billion annual budget that supports 60,000 personnel who recruit, train and educate U.S. Air Force Airmen and international partners across 22 bases. She also develops AETC's inputs to the Program Objective Memorandum, which recommends funding allocations; leads AETC strategic planning; and manages flying training and technical training operational capability requirements.
"We're lucky to have Brig. Gen. Lenderman as our fourth executive speaker in our 2020-2021 series," said Sergio Palacios, Ph.D., Associate Professor of Management and Chairman of the Board of the Forum on Entrepreneurship Series. "She will discuss diverse topics that are extremely relevant, such as: Air Force innovations in the entrepreneurial world, basic military training in a COVID-19 environment, her leadership philosophy and the 3 L's (Listen, Love, Lift Up) and social needs of the military."
More from Lenderman's bio:
Lenderman graduated from Duke University with an Electrical Engineering degree in 1993.
After attending pilot training at Columbus Air Force Base in Mississippi, she served several tours flying the KC-135 Stratotanker at Grand Forks Air Force Base in North Dakota, Fairchild Air Force Base in Washington State and Altus Air Force Base in Oklahoma.
Her staff assignments include serving as Chief of the Commander's Action Group and Executive Officer to the Commander, Air Mobility Command, Scott Air Force Base in Illinois; Analysis Branch Chief, Joint Staff J-8 in Washington, D.C.; and Deputy Director Military, Strategic Planning, Policy and Logistics, U.S. Transportation Command at Scott Air Force Base.
She also commanded the 15th Air Mobility Operations Squadron at Travis Air Force Base in California, served as the Vice Commander of the 380th Air Expeditionary Wing in Southwest Asia and commanded the 375th Air Mobility Wing at Scott Air Force Base.
Prior to her current position, the general was the Commander of the 502nd Air Base Wing and Joint Base San Antonio.
More about the Forum on Entrepreneurship Series
The Meadows Center for Entrepreneurial Studies promotes and encourages entrepreneurial thought, business and activities locally, regionally and nationally. The purpose of the Forum on Entrepreneurship Series is to offer the larger San Antonio community and students of St. Mary's University a forum to hear from some of the most talented individuals in industry and government. Funds generated from the series support student scholarships and encourage entrepreneurial activities in San Antonio and the region.
The series will continue with discussions in April 2021. The series' 2020-2021 title sponsor is PwC. For information on sponsorship opportunities, please contact Pamela Luna at forum@stmarytx.edu or 210-436-3124.