April 29, 2020
Editors note: This program only applied to credit hours taken in Summer 2020, Fall 2020 or Spring 2021.
St. Mary's University announced today that it will encourage students to continue on their path toward academic achievement by discounting tuition for recent alumni enrolling in graduate programs and for summer classes for new undergraduate students.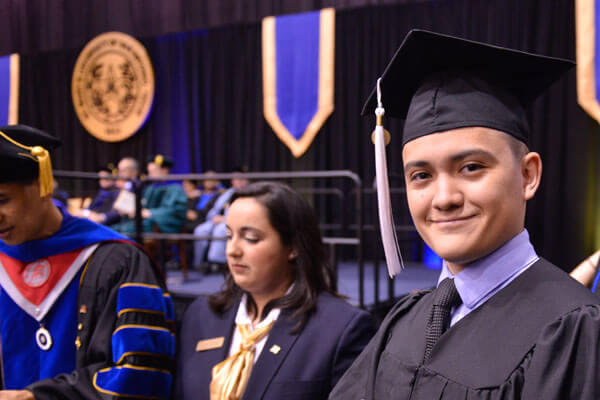 For both recent undergraduate alumni returning for a graduate program, and incoming undergraduate students who want to start with a Summer 2020 course, St. Mary's University will temporarily discount tuition rates by 50%.
"For generations, St. Mary's students have enriched their knowledge and career development through our unique Catholic and Marianist liberal arts education," said Rosalind Alderman, Ph.D., Vice Provost for Enrollment Management. "To support this attainment during what will be challenging financial times and an uncertain job market for many in our community, St. Mary's will offer a tuition discount to recent alumni who meet the admission requirements and remain at St. Mary's as a new degree-seeking graduate student."
Graduate tuition discount for alumni
The graduate student discount will cover half the cost of an alumni's tuition charges for a total of 15 credit hours completed in Summer 2020, Fall 2020 or Spring 2021. No application is required for the tuition discount. Alumni applicants will be automatically awarded following their program admission.
To be eligible for discounted graduate tuition:
Alumni must have completed and conferred a St. Mary's bachelor's degree in Fall 2019, Spring 2020 or Summer 2020.
Applicants must be new for the Summer 2020, Fall 2020 or Spring 2021 terms to be eligible for consideration for the alumni discount.
Alumni must be enrolling in graduate-level master's degree or certificate programs in the College of Arts, Humanities and Social Sciences; the Greehey School of Business; or the School of Science, Engineering and Technology.
Alumni are not eligible for a tuition discount in the St. Mary's University School of Law programs, the Doctor of Philosophy in Counselor Education and Supervision, or those pursuing an undergraduate, second or additional graduate degree.
Alumni are not eligible for a tuition discount if they are returning to St. Mary's graduate programs after a leave of absence, other breaks in enrollment, or if they are non-degree seeking students.
The tuition discount cannot be combined with other discounts.
New undergraduate student tuition discount
St. Mary's University has also extended a special summer discount to new undergraduate students joining the University community this fall.
Those incoming undergraduate students can take advantage of expanded summer courses online at a 50% tuition discount. The University will share information with incoming students who submit their enrollment deposit by May 4 about how to take advantage of these courses, register for Summer I or II online courses, and how to apply for Summer financial assistance, if needed.
The University is also offering an alternate, ACT and SAT test-optional pathway to complete applications to St. Mary's for the Fall 2020 semester for incoming, first-time freshmen.