February 12, 2020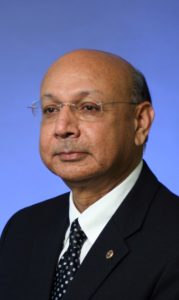 The St. Mary's University School of Law's student-led publication, The Scholar: St. Mary's Law Review on Race and Social Justice, will host its 2020 Immigration Symposium on Friday, Feb. 28, at the UTSA Institute of Texan Cultures.
Embracing the theme of "The Many Faces of Immigration," the event will feature Khizr Khan, father of a fallen U.S. soldier, attorney and author of An American Family: A Memoir of Hope and Sacrifice. Khan will speak on the "U.S. Constitution — What It Is and Why It Matters — An Immigrant's Perspective."
"The Immigration Symposium is our opportunity to manifest both St. Mary's ideals and The Scholar's mission to give a voice to the voiceless," said Gabriel Sáenz, a third-year St. Mary's J.D. student, symposium editor and first-generation American. "Many of today's immigrants are assailed on multiple levels: in their home country, on their journey seeking refuge and even once they have arrived at our nation's border. As individuals committed to racial and social justice, we must further the education and practical skills of immigration advocates in Texas, whether it be in their capacity as an attorney or a volunteer. It is an honor to The Scholar and myself to present compelling and relevant speakers to our community."
The symposium takes place from 8:30 a.m. to 4:40 p.m. on Friday, Feb. 28, at the UTSA Institute of Texan Cultures, located at 801 East César E. Chávez Blvd.
Special guest speaker Ira J. Kurzban, J.D., author of Kurzban's Immigration Law Sourcebook, the most widely used one-volume immigration law source in the United States, will discuss immigration litigation as a method for political change. Kurzban is also co-founder and partner at Kurzban Tetzeli and Pratt P.A.
The symposium schedule also includes:
A panel discussing "A City's Ethical Role in Today's Immigration Climate," moderated by the Hon. Henry Cisneros, former mayor of San Antonio and former U.S. Secretary of Housing and Urban Development; and featuring the Rev. Ann Helmke, faith-based initiative liaison for the City of San Antonio; Pedro Martinez, superintendent of schools at San Antonio Independent School District; and Dr. Suhaib Haq, founder and director of the El Bari Community Health Center
Tran Dang, J.D., founder and executive director of The Rhizome Center for Migrants
Olu Orange, J.D., civil rights attorney and director of the University of Southern California Dornsife Trial Advocacy Program
The Hon. Paul Wickham Schmidt, J.D., retired immigration judge, retired chairman of the board for the Executive Office for Immigration Review in Falls Church, Virginia; and adjunct law professor at Georgetown Law
The Scholar researches and publishes scholarly articles that identify legal and social issues adversely affecting minority and vulnerable populations.
The Immigration Symposium offers 6 Continuing Legal Education credit hours, including 1 hour of ethics credit. Registration costs $115 for attorneys, $75 for non-attorneys and government employees, $30 for immigration volunteers and $20 for students.
Keynote speaker Khan will lecture from 3:35 to 4:40 p.m. The keynote speech is free and open to the public. Free tickets are first come, first served through Eventbrite.
This event is made possible through the sponsorship of Terry Bassham (J.D. '85) and Zulema Carrasco Bassham and the Rosenfield Brothers' Lecture Series.